s/y Nine of Cups

Chesterfield Reef & Crossing the Coral Sea

En route to Australia - 26 October - 8 November 2011

We left Vanuatu on 26 October with 15-20 kts SE winds
forecast and for once, the forecast lived up to expectation.
Other than one night, the trip was fast and smooth and
thoroughly enjoyable. Our stop at Chesterfield Reef was
outstanding as you can witness below.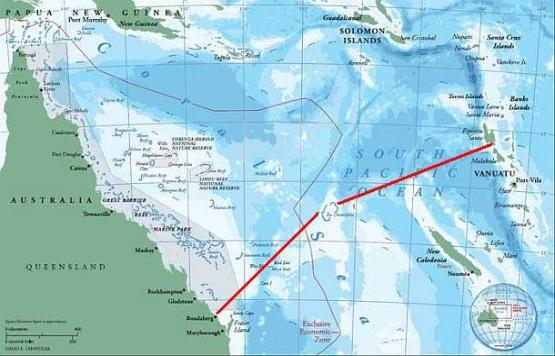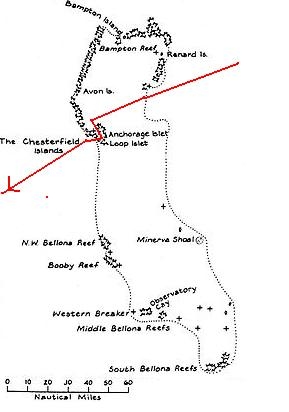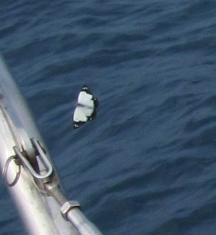 Leaving Luganville, Vanuatu
through the Segund Channel, we
were surprised and thoroughly
enchanted by hundreds of
butterflies flying past the boat.

Several boobies
(brown and
red-footed)
hitchhiked en route.
We didn't mind
offering the free
passage on our
whisker pole, but the
mess they left behind
was nearly
overwhelming.

573nm and 4 sailing days from Luganville
and we were anchored in the middle of
the Coral Sea at Chesterfield Reef. This
pristine spot is virtually untouched by man
(other than debris washed ashore). This is
a place for birds to breed and rest and
sea turtles to lay their eggs. It's magic!

At left, a sketch of Chesterfield Reef
nicked from the Wiki site. Above, a
satellite photo of the reef (also nicked
from the internet) shows our route and
anchorage.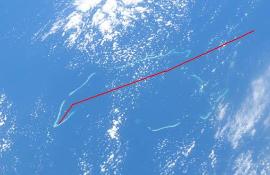 There are some problems stopping at
Chesterfield Reef, the primary one being we've
never checked into New Caledonia and since
this area belongs to them and hence France,
most boats stop illegally and the French don't
like it one bit. The area, however, is seldom
patrolled, so the risk of being caught is low.
We were aware of at least one boat recently,
however, that was ordered to Noumea (New
Cal's capital city) under patrol boat escort and
their boat was impounded until they paid a hefty
fine.
Luckily, we were able to join the return leg
of the Brisbane-Vanuatu rally coordinated by
our friends and SSCA Cruising Hosts, Alan &
Debbie Profke of Paradise Lodge at Aore
Island in Vanuatu. They had secured permission
from New Cal Customs for their participating
boats to stop legally and had provided us with a
formal letter and copy of the Customs permit. It
pays to have friends in the right places.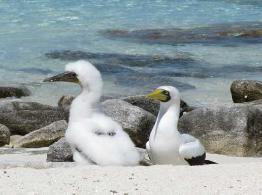 Chesterfield Reef - Coral Sea - 19S53.05 / 158E27.75 - 56'

Chesterfield Reef ... It's "for
the birds" -
There are thousands of
birds here, nesting, breeding, resting,
thriving. Here's a few of our favorite
bird/island shots.

A masked booby and her fluffy chick.
Note that the chick is bigger than mom!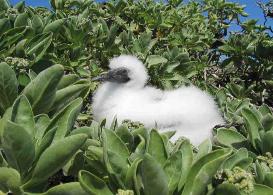 A baby booby sits in its nest. In the sky, in
the trees, in the water, on the reef, on the
ground, birds were virtually everywhere!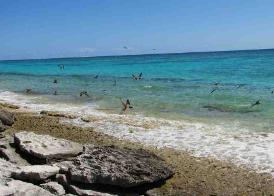 The island is arid and the flora consists
primarily of scrub, bush and sand.

Reefs surround the islets providing good
protection for the birds ashore and boats in
the anchorage.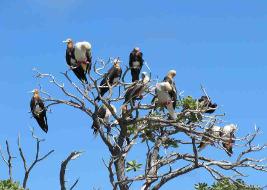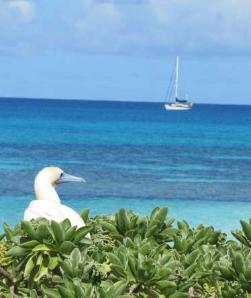 A red-footed booby keeps an eye on
Cups in the anchorage.

There aren't many trees, only shrubs, but
everyone shares what's there.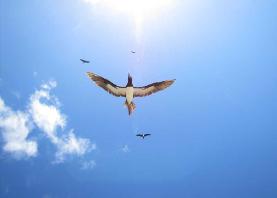 We watched two noddies "kissing".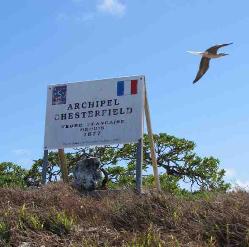 A worn sign proclaims Chesterfield
Archipelago-French territory since
1877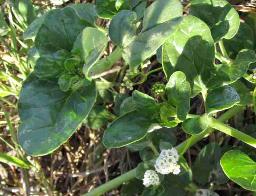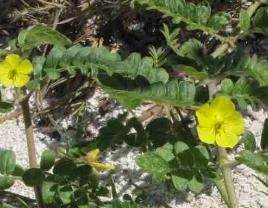 Primary flora consisted of the two plants shown above. To the left was a large shrub with
tiny white clusters of flowers and to the right, a yellow-flowers creeper.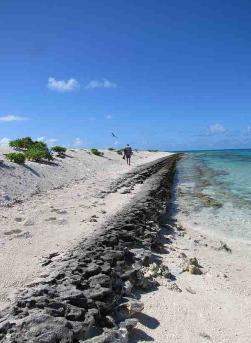 David walks a coral ledge
beachcombing for shells

The place was so thick with birds, it was nearly overwhelming at times with noise.
Thousands circled, swooped and darted about. When something spooked them all of a
sudden, they would all take to flight at once.

A booby couple with its hatchling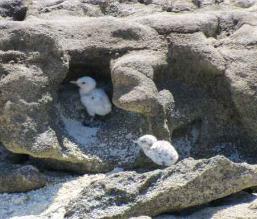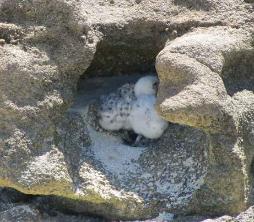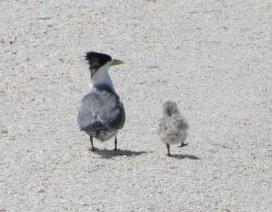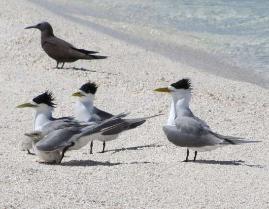 A crested tern protects her chick with
her wing

Taking a walk
(My personal favorite photo)

Above, two tern chicks head for safety in the coral reef. When they turn their heads to
the rock, camouflage takes over and they're nearly invisible. Good training, Mom.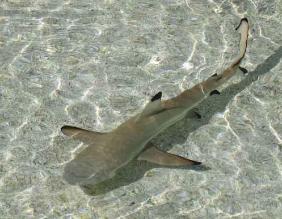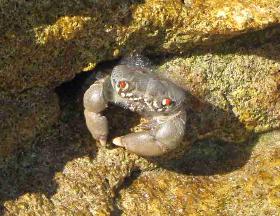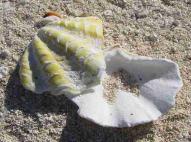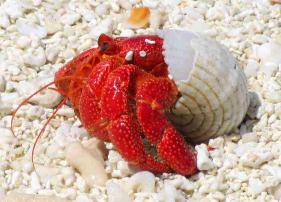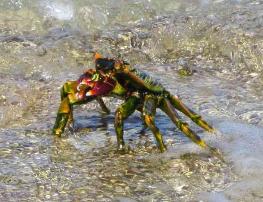 But wait, there's more...

We identified nine different species of birds while here, but we also saw so much more. Take a look below.

Black tip shark in a tidal pool

A crab peeks at the camera

A long way back to the sea

Sea turtles were mating - turtle bliss

Rock crabs scuttle in the surf

Hermit crabs were big...shells, not so much.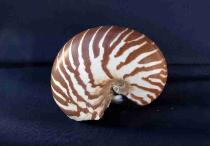 The females worked hard to dig nests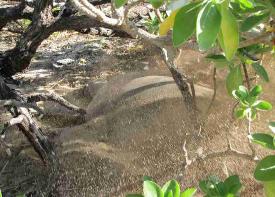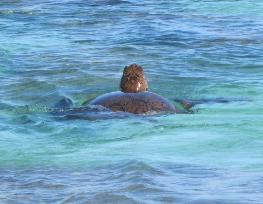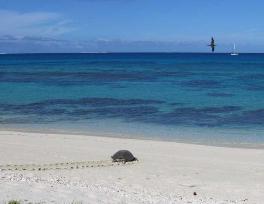 Turtles were everywhere in the anchorage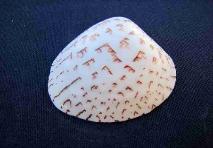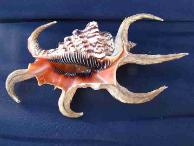 Beachcombing and shelling were fabulous. From left New Caledonia chambered nautilus, giant sea clam, spider conch, hieroglyphic venus and a jandal (aka flip-flop or thong).

So ends another adventure. Only ~450 nm to Bundaberg, Australia
where another adventure awaits us.
Join us in Australia
where we
will participate in the festivities of the Port 2 Port Rally and get
acquainted with a new country and a new continent.

Shelling netted us some very different shells
for our collection including chambered
nautilus and spider conch.

It's hard to leave a place like this.