Since we miss lots of holidays when
we're at sea, we make up for it when
we can. We celebrated Valentine's Day
in grand style. Our mooring neighbors
gave us fresh blue cod and scallops and
I steamed more clams for "ciappino".
(See our Valentine Ciappino recipe in
Cups recipe book). David made fresh
French bread and the champagne was
chilled to perfection. We topped off the
evening with blackberry crisp and
whipped cream while watching
"Sleepless in Seattle", a romantic
favorite.

s/y Nine of Cups

Stewart Island (Rakiura), New Zealand

February - March 2011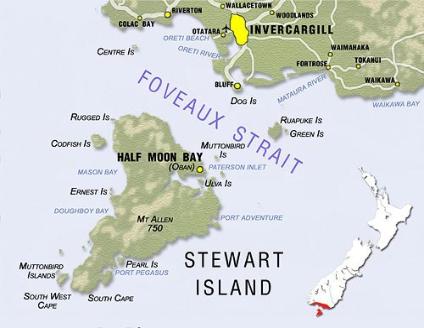 On 11 February, we rounded NZ's
South and Southwest Capes, west to
east, and headed to the protected
anchorages on the southeast end of the
island. There were so many birds ...
mollymawks, albatross, gulls, terns,
petrels, shearwaters. Our destination was
Port Pegasus on the southeast coast of
Stewart Island.

The Great Southern Capes

Cape of Good Hope (Africa)
Cape Horn (South America)
SouthCape (New Zealand)
Southeast Cape (Tasmania)
Cape Leeuwin (Australia)

The sun was just coming up over the Mutton
Bird Islands on our port side with Stewart
Island in the distance when Marcie came on
watch at 0600. Silhouettes of albatross glided
by Cups in the barely-lit dawn. The Mutton
Bird Islands, wildlife refuge, are low-lying,
rounded islets which are home to some of
the millions of sooty shearwaters which
inhabit NZ.

A weather window finally appeared and we left Preservation Inlet mid-day
on 10 February. Just before sunset, rugged Solander Island came into view.
Sitting out in the Tasman Sea, alone and isolated, it is a NZ wildlife refuge
and looked like a good place for the seabirds to take a rest.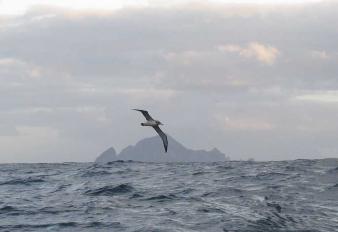 The entrance was just beyond South Cape
and was soon visible to port. Above, the
South Passage en route to Disappointment
Cove with calm waters and flotillas of gulls
and terns to greet us.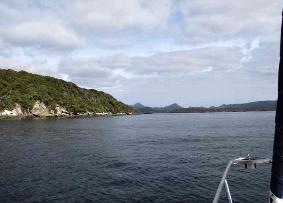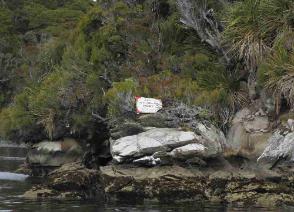 Our cruising notes indicated that when
entering Disappointment Cove, we would see
a white sign on which to sight to avoid the
reefs and rocks. We saw the sign
immediately. It read "All vehicles must STOP!"

The Maori call this island, Rakiura, loosely
translated "the great and deep blushing of Te
Rakitamau". Maori legend has it that a young
Maori chief was embarrassed when his
proposal of marriage to the daughter of a
high-ranking family was turned down. His
embarrassed blush is immortalized forever in
the exquisite sunrises and sunsets of the island.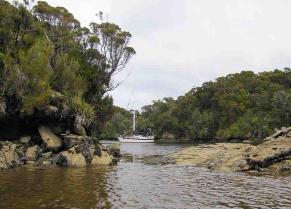 A permanent mooring line was strung across
the head of the cove. We dropped the anchor
and tied bow and stern to the line to keep
ourselves from swinging onto the reef.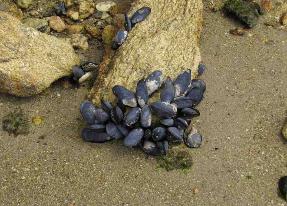 Disappointment Bay was anything but
disappointing. There were two small sand
beaches at low tide which provided clams
and blue mussels in abundance.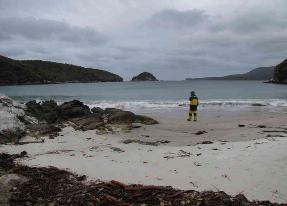 A well-marked trail led over the ridge to two
sand beaches on the ocean side. We had
hoped to spot yellow-eyed penguins nesting
here, but here we were disappointed.

Port Pegasus...the name would make you
think that there was a town of some sort here
and at one point there was some activity, but
now it is remote and unpopulated...save the
birds and fur seals we saw. It got its name
from the vessel "Pegasus" which was on a
sealing expedition in 1809. Its first officer,
William Stewart, began charting the southern
coast of the island and his work is
acknowledged by the island's name.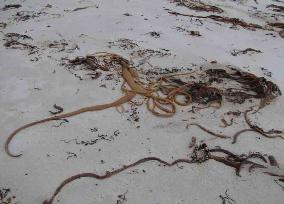 Kelp laying on the beach conjured up all sorts
of sea monster/ giant squid-octopus images.

Port Pegasus, Evening Cove - 47S12.40 / 167E36.99 - 15'

Port Pegasus, Disappointment Cove - 47S14.61 / 167E37.12 - 19'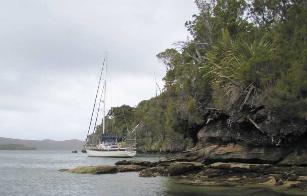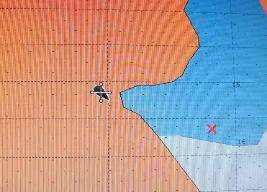 Once again, a permanent mooring line was strung
across the cove allowing us to drop the anchor
and tie two stern lines to the mooring line
preventing swing into nearby reefs and rocks.

Also once again, the chartplotter wasn't
quite correct. The anchorage was a bit
shallow (15'), but not THAT shallow. For
non-chartplotter readers, this shows Cups
anchored inland.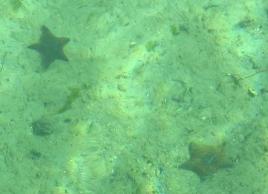 Unlike most of the other anchorages we've
visited in New Zealand, the water here was
clear, clean and green. Starfish at 15'
below us look like they'd be easy to snatch
right up.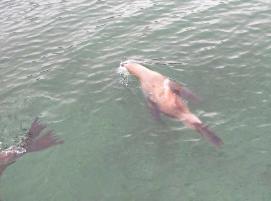 As we entered the cove, two NZ sea lions met us. They were apparently in a playful mood.
They swam under and around Cups as we were anchoring, jumped out of the water, slapped
their flippers on the water and then kept nudging the dinghy as if asking us to play. Unfortun-
ately, anchoring took precedence at that moment.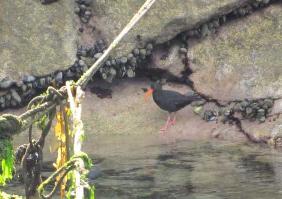 Oystercatchers are the most abundant bird
ashore so far. Near our mooring line, several
picked at mussels left uncovered at low tide.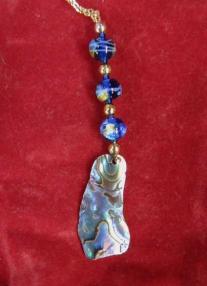 David made a pendant for me:
paua shell and blue crystal beads
presented in a red velvet pouch.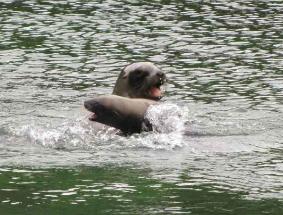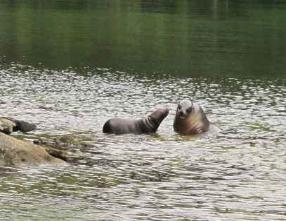 Port Pegasus, Waterlily Bay - 47S10.41 / 167E40.32 - 15'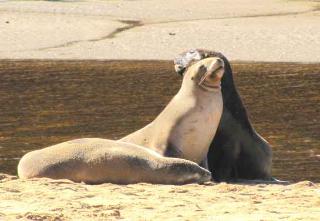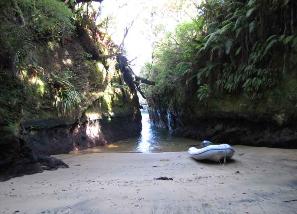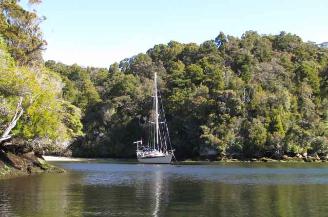 Waterlily anchorage was beautiful...tucked in and
calm with a sturdy hawser across to the bay to
which we could tie stern lines. Alas, no waterlilies.

A fissure in granite slightly wider than
the dinghy led back about 50 feet to a
tiny sand-beach grotto. The entrance is
so narrow that the waves build up
coming in and we had to fend ourselves
off the rocky sides with our oars and
then got a big push up onto the beach.
Not much inside...dark and very cool
out of the sunshine and most
unusual...quite eerie in fact. The thick
rain forest had formed a canopy
overhead so it seemed more like a cave.
Getting back out was a bit of challenge
to overcome the incoming waves, but
we managed and headed out around a
small point up into Basin Creek.

Exploring by dinghy, we scooted across
the bay to Smuggler's Cove.

While digging clams in Basin Creek at low tide, we could hear roaring up the bay. Really,
it sounded like a pride of lions at the head of the creek, but we could see nothing. Clam
digging complete, we walked further up the creek, the rocky sides now exposed by the
low tide. Lolling on the beach before us were about eight large sea lions. Some were
sleeping; some rolling in the sand; others apparently at play. A huge bull spotted us and
took his responsibility to protect the harem very seriously. With an ear-shattering roar, he
charged in our direction, moving amazingly fast for such a large creature. David raised his
arms and began clapping, a trick we learned in Antarctica to keep the sea lions at bay.
This worked for about a minute. Actually the bull looked somewhat confused (maybe
a-mused), then he resumed his charge. David repeated the clapping and the bull stopped
once again. We weren't that close actually and didn't feel all that threatened since we
thought we could probably outrun a half-ton sea lion on land...even at our age. As we
slowly backed away, the bull would charge, David would clap and finally we evidently
passed an invisible territorial border. The bull gave another roar and a snort and pretty
much swaggered, as well as sea lions can, back to his harem, shouting his own praises all
the way. He's probably still regaling them with his brave acts of courage to this very day.

We originally had mistakenly identified these as NZ fur seals, but learned later (thanks to

NAS Guide to Marine Mammals of the World)
they were NZ sea lions. They are also
known as Hooker's sea lions, named after Sir Joseph Hooker, the British botanist who
collected the first specimens of this species in the early 1800s. What we thought was an
unusual white male seal was instead a female sea lion which are in fact, normally yellow to
creamy white in color. Just how wrong can you get? It appears that Port Pegasus is a
normal place for them to haul out and rest for awhile especially in autumn and winter.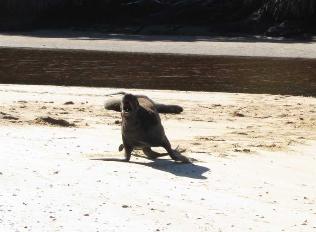 From our base at Waterlily Bay, we could
dinghy up the inlet to The Settlement
developed first for the short-term "tin rush"
in the early 1890s and subsequently used
for fish refrigeration. The remnants of the
old cement wharf and rusting machinery
parts are all that remains.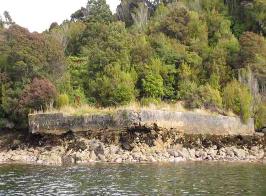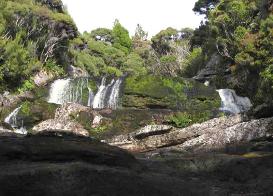 Just beyond The Settlement, at the head of
the inlet, was Belltopper Falls, pretty, but
certainly no Niagara.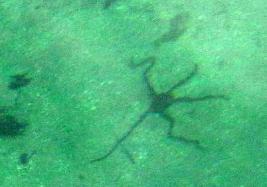 In tiny Diprose Bay, large enough only for
the dinghy, we found clear, clear water
and the bottom covered with spiny starfish.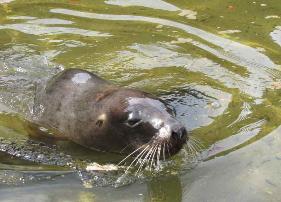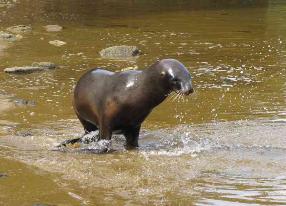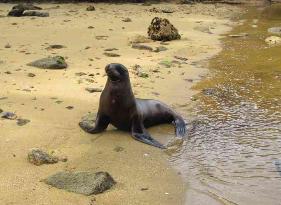 NZ sea lions versus seals... According to our library resources aboard, sea lions prefer sandy
beaches to rocks, can walk and run on their flippers and have small ears. Though we've seen seals
in the past, these are definitely sea lions.

While heading into the beach at the head of Diprose Bay, we heard a splash and saw a sea lion following behind us. He swam around and under the
dinghy and continued as we got into shallower and shallower water. When we beached the dinghy, he walked right up onto the beach with us, totally
fearless. We, on the other hand, were a bit concerned as he kept coming closer and closer...sometimes tentatively, but mostly at a sea-lion gallop.
We'd clap and shout, which would stop him for a second and then he'd continue coming towards us. Perhaps this was "his" beach, we're not sure,
but we finally shouted him down enough for us to get back in the dinghy and launch it. The noise from the starting of the engine finally frightened him
enough that he backed off and we made our hasty departure. Up close, they really have a large set of sharp teeth.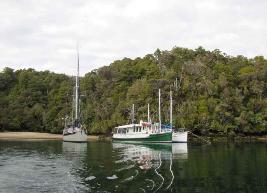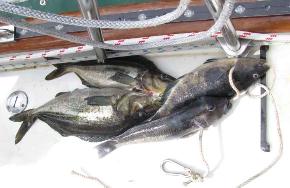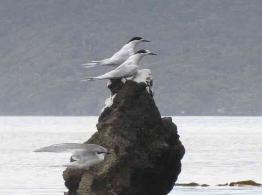 For a couple of nights, we had two motor
launches (power boats) as company in the
bay. We shared sundowners and they
gave us some pointers on blue cod fishing.

The fishing tips worked evidently as we fished
from the dinghy the next day and caught blue
cod as well as some other unidentifiable
variety which became dinner for two nights.

Caspian terns, constantly chattering,
perched on a rock near the boat also
provided company in the bay.

A weather window finally presented
itself for the 40nm day trip up the coast
to Paterson Inlet. The day was rainy and
foggy and though favorable winds were
forecast, we saw no wind at all until
entering Paterson Inlet and then it blew
35 knots on the nose. We motor-sailed
right into lovely Golden Bay where the
water was calm and the anchor dug in
well. We could barely wait to get the
boat tidied and settled in, so we could
talk into Oban...our first real "town"
since leaving Opua back in January.

Paterson Inlet, Golden Bay - 46S54.29 / 168E07.27 - 37'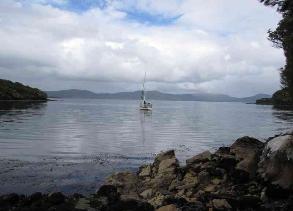 The boathouses at Golden Bay were very
scenic reminiscent of our visits to Nova Scotia.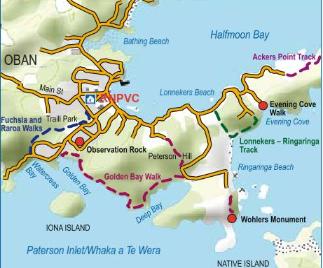 Halfmoon Bay is Oban's harbour for
passenger ferry, tourist and supply
boats arriving from Bluff, South
Island. Since it's a rather crowded
harbour, we opted to anchor Cups in
Golden Bay and walk to and from
Oban, about 2km each way. From
Oban and other anchorages, there
were several tracks to walk in the
area and we planned to take
advantage of every one we could. But
first things first! We hadn't been in a
town nor seen a supermarket since
early January and we were looking
forward to both.

View of Nine of Cups from the ferry dock at
Golden Bay.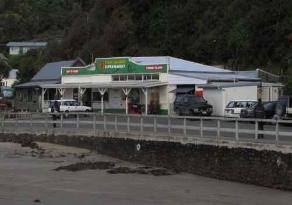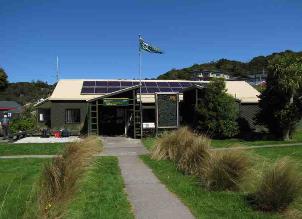 Actually, our very first stop was the DOC (Dept
of Conservation aka national park service) office
for some local maps and info.

We made sure we located the small Four
Square "Ship to Shore" supermarket
immediately so we could browse and shop
later. Once we found that they delivered to the
wharf at Golden Bay, we shopped with vigor.
Small store, but great stock and variety.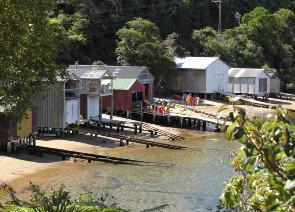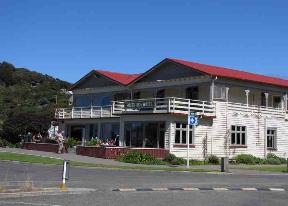 The South Sea Hotel above seems to be "the"
place to meet, have a meal and a beer. We felt
obligated to take advantage of this opportunity.
We hadn't had a meal off the boat since
January and we were ready to splurge.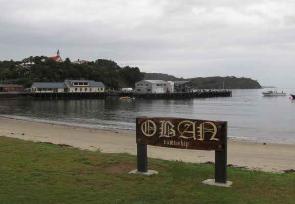 Oban is quite a small town (pop ~400), but the
only town on Stewart Island. Located on
Halfmoon Bay, it mainly services tourists and
fishermen. The people were helpful and
welcoming and we were happy to be here.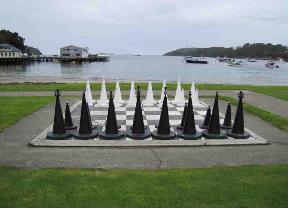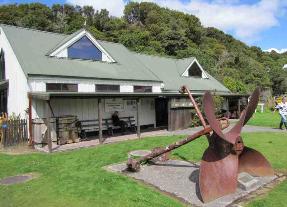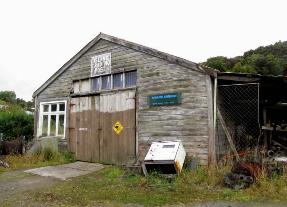 A huge chess set dominates the shore facing the
ferry terminal and seems to get lots of use.

We visited the tiny, but interesting Rakira
museum which seemed to concentrate on
Stewart Island's pioneering history.

The sign says "Island Trading Post" and we're
not sure what it actually was, but we thought
the building was quite interesting.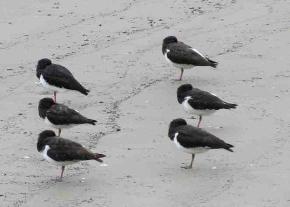 Six little oystercatchers standing in a row...
Catching a birdnap, standing on one foot, their
long orange beaks tucked behind them.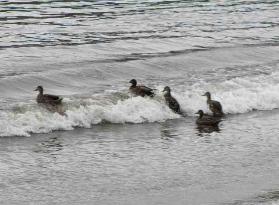 These ducks seem to be unbothered by the
surf and surge. Go with the flow...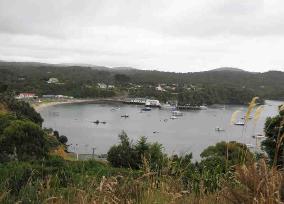 View of Oban and Halfmoon Bay taken from
high above on the top of Peterson Hill.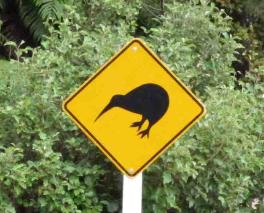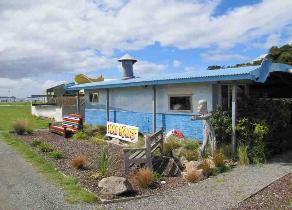 Seeing these signs made us quite excited
to perhaps spot a kiwi.

The Kai Kart next to the museum seemed to
do a brisk business in takeaway fish and chips.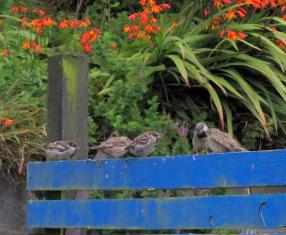 Of course, even seeing four sparrows sitting
on a blue fence is a photo opp.

Paterson Inlet - Little Glory Cove - 46S58.32 / 168E09.41 - 26'

Paterson Inlet - Ulva Island - Sydney Cove - 46S55.72 / 168E08.29 - 36'

From our anchorage in Little Glory,
we could dinghy to the Ocean
Beach Track where we were
hoping to see brown kiwi on the
beach. The fern-lined track above,
was well-marked and pretty soggy.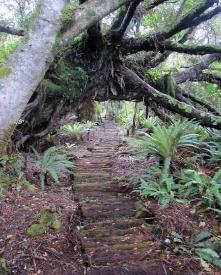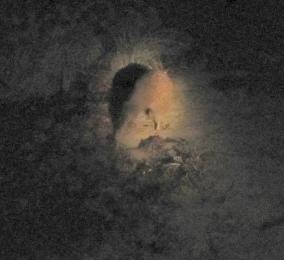 Our first trip to Ocean Beach during the day
netted only glimpses of oystercatchers. Since
kiwi are usually nocturnal, we went back at
6am next day while it was still dark and
spotted a kiwi as soon as we walked on the
beach. No flash photos allowed, just dimmed
flashlight, so you need to use your imagination.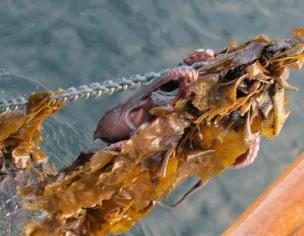 There's really never a dull moment for us. When
weighing anchor, a rather large octopus attached
itself to the kelp on our anchor chain. He held on
long enough for Marcie to snap this photo then
finally let go. We hadn't quite figured out how
we'd remove him if he didn't go of his own volition.

Several trails lead around and through the
island. A booklet from the DOC office at
Stewart Island provided historical
perspective as well as conservation efforts
and comments on the local residents.

Sydney Cove at Ulva Island is only a day
anchorage, but affords access to one of
NZ's few open island sanctuaries. The 600+
acre national park area offers native plants
and birds the opportunity to thrive in a
predator-free environment.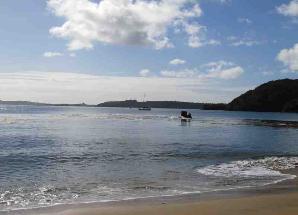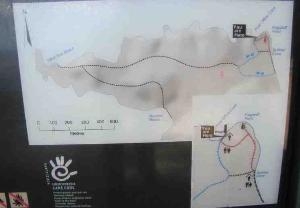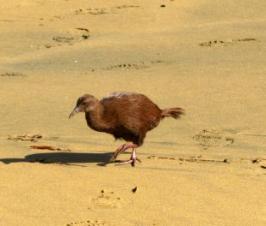 Though we saw and heard many, many
birds, we didn't photograph as many as
we would have liked due to poor lighting
under the forest canopy. The wekas,
however, were abundant, not shy and
definitely hams for the camera.

Paterson Inlet - Kaipipi Bay - 46S54.13 / 168E04.14

All of the anchorages in Paterson Inlet are close
to each other and are swing anchorages which
allowed us to move back and forth between them
on a whim (or a weather change). Kaipipi Bay
was not only a very well-protected anchorage, it
also provided access to several tracks and places
of interest. The Kaipipi Bay track began a short
dinghy ride away and wandered up and down
along an old logging road. The muddy, fern-lined
trail connects with the Rakiura Track (one of
New Zealand's Great Walks) for a stretch and
ends up in Oban, about 5.5 km away.
Filtered sunlight through a dense forest canopy
plays on the undergrowth. We had no idea just
how many species of ferns could exist in one
small area nor how many shades of green could
be distinguished.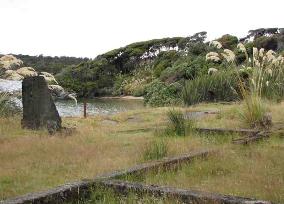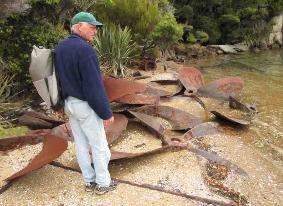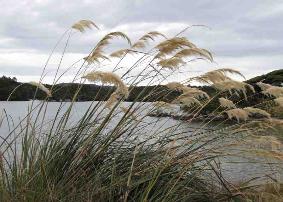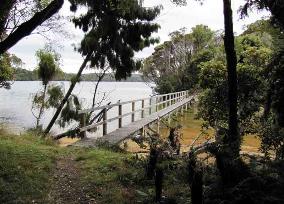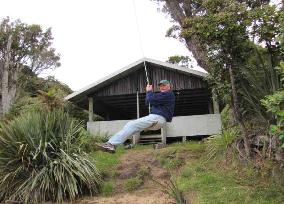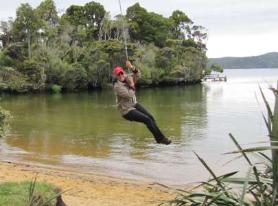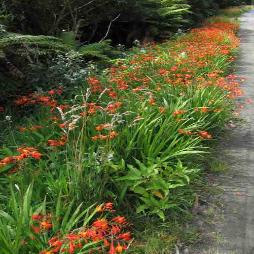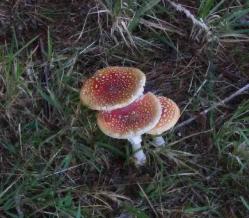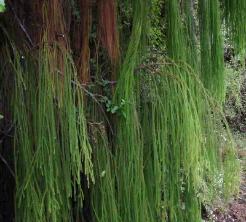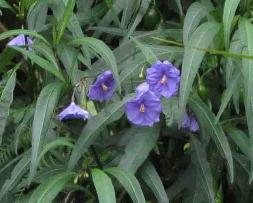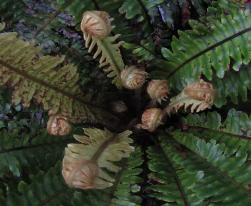 Many of the tracks were old logging
and sawmilling tracks.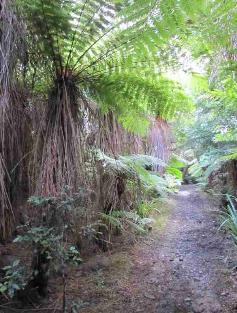 At the whaler's station, not much remained
but the concrete foundation of one large
work building and the front steps of the
manager's residence.

The beach was literally littered with old
rusting propellers of varying sizes that had
been damaged by ice floe in the Antarctic.

Just a mile across Price's Inlet from Kaipipi
Bay was Whaler's Base with a good landing
wharf at Millar's Beach. Above, the walkway
from the wharf to Millar's Beach.

The 20-minute track to Whaler's Base seemed
all up, then all down. Muddy in spots, there
were the remains of large tree sections and
trunks, carpeted in thick moss, from logging
efforts in days past. The station in operation
between 1925-1931, was responsible for
repairing and maintaining the Norwegian
whaling ships and small whale chasers that
worked in the Southern Ocean. Interpretive
signs described various aspects of the facility
and life at the station. At its peak, the Rosshavet
Whaling Company killed about 1,000 whales
per year. The only reason the whaling stopped
was due to the glut of whale oil on the market
which drove prices down and made this station
unprofitable.

Another dinghy was tied up when we arrived and we heard some loud "whooping" from the
direction of the refuge hut there when we first arrived. Shortly after, we saw a rather sedate
couple walking away from the hut. We couldn't imagine the cause of the whoops until we got
there ourselves. In front of the refuge hut was a long, sturdy rope swing that soared way out
over the water. We each took a turn and whooping was definitely called for.

Here's a montage of things that caught our attention
enough to photograph and share, but the images don't
really fit in with anything in particular.

Scarlet fly 'shrooms...even Alice would
have appreciated these.

Bright orange montbretia blooms profusely
along the roadside heading into Oban.

Poroporo is one of the few native plants
we identified.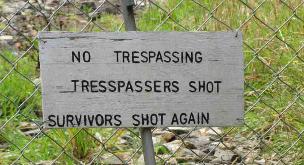 Graceful pampass grass sways in the breeze
at Whaler's Base.

Rimu, a native tree, was and is one of
the main sources of lumber in NZ.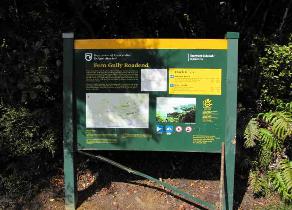 Despite the mud and muck, the trail is
well-marked and quite pleasant to walk. There
were fewer birds than we had anticipated
although we did hear the complex, melodic
songs of saddlebacks, tuis and bellbirds en
route.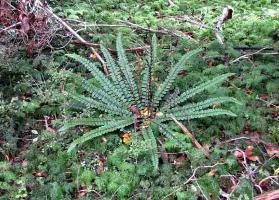 Ferns, ferns, and more ferns! New Zealand boasts more than 200 species of different ferns.