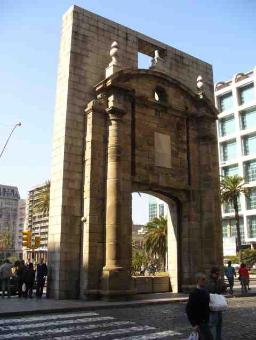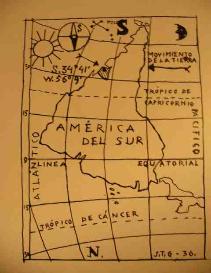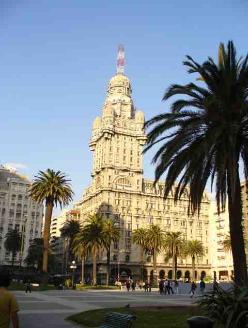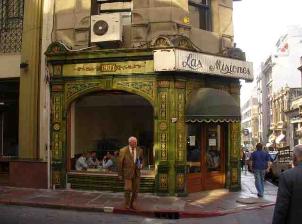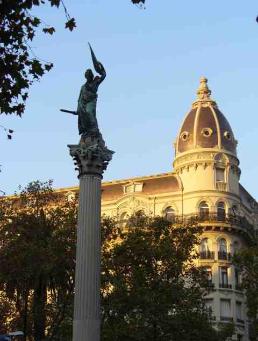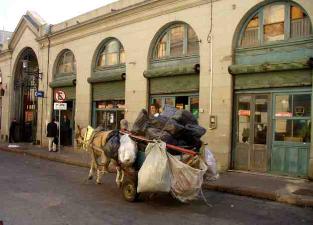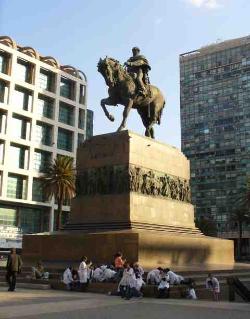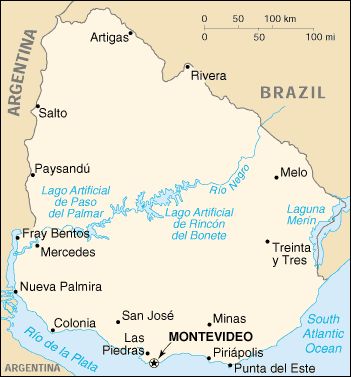 Republica Oriental del Uruguay

Capital City:
Montevideo

Land area:
68,039 sq miles...about the size of Missouri

Population: ~
3,400,000

Language:
Spanish

Currency:
Uruguayan Peso ($23.10 = $1 US)

Highest Point:
Mt. Catedral 1,687 feet above sea level

Chief products:
Beef, cattle, lamb, leather goods

Political Units:
19 departments

Everyone in Uruguay drinks
mate
(mah-tay), a hot herbal drink. They carry their
mate cups (usually made from carved gourds) and a hot thermos of water with
them everywhere...not so different from Americans and their cups of coffee.

Uruguayan wine is excellent especially a varietal called
Tannat,
not currently
available in the U.S.

We got a kick out of artist Juan
Torres Garcia's view of South
America.

Jose Artigas is the national hero and
liberator of Uruguay. Astride his horse, his
statue dominates the Plaza Independencia
with a background of high-rise office
buildings.A mausoleum with Artigas' tomb
is below and has a 24-hour military guard.

Montevideo was once a walled city, now
only the portal of the citadel remains and
separates the old city from the new.

An opulent reminder of the city's
illustrious past, the Palacio Salvo was
once the tallest building in South America.

Uruguay's Statue of Liberty

A mix of old and new, horse drawn carts are not
uncommon on the city's streets.

An appealing restaurant on the pedestrian mall
in downtown Montevideo.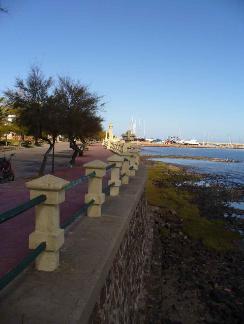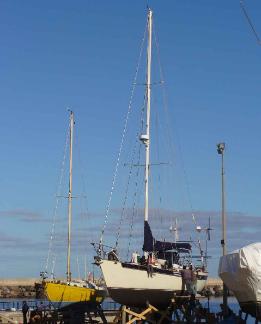 Piriapolis is our "home" for a few months
while Nine of Cups is hauled out and has
her annual maintenance.

We thought the most picturesque hotel was
Hotel Colon, constructed by Piria for his
youngest son, Arturo. Brennan and Hannah
stayed here on their visit and enjoyed the
quaint, historic atmosphere.

We were not allowed to live aboard so we
rented a "casita" while here and had about a one
mile walk each way to and from the marina each
day. Our landlady, Christina, loaned us bikes so
we could pedal around town. She also let us
borrow her car on several occasions so it was a
great arrangement. We spent a total of 5 months
in Piriapolis completing maintenance and repairs
on the boat as well as using Piri as our base for
exploring central and northern Argentina.
Uruguay, and Piriapolis especially, can be
described with one word in Spanish, "tranquilo".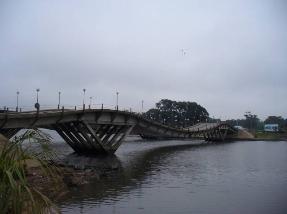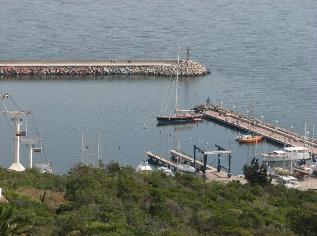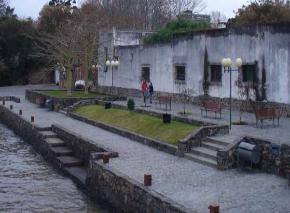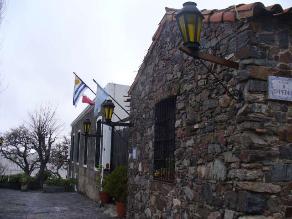 In August 2006, our oldest son, Brennan and his fiance, Hannah Connor, visited for a week. We
toured coastal Uruguay for a few days then headed to Buenos Aires. Punta del Este is a getaway
resort for Argentines and Uruguayans alike, situated at the entrance to the Rio de la Plata and the
South Atlantic Ocean. All glitter and swank, Punta is considered the ritziest resort in South America.
It is overflowing with restaurants, casinos, high-class boutiques and nightclubs. We only did daytrips!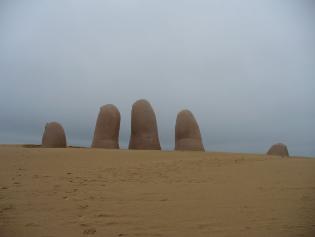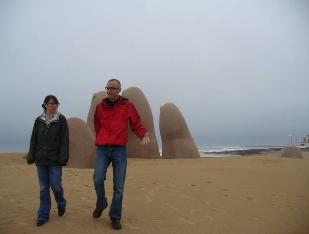 s/y Nine of Cups

Uruguay

May - October 2006


The trip from Mar del Plata to Piriapolis was only
224 miles. A pleasant overnight passage of 44
hours and we were in a new country right across
the Rio de la Plata. Bienvenidos a Uruguay.
Located on the coast, Piriapolis is actually on the
Rio del la Plata just off the Atlantic Ocean.

The reason for coming to Piri (as the locals call it)
was to haul Cups to repair the damage to the keel
sustained when we hit some rocks in the Chilean
canals and do her annual maintenance. We had
heard the prices and facilities were good and it was
less hectic and crowded than Buenos Aires. We
traveled in "loose company" with Noel on Sadko
once more, arriving a few hours in advance of him.
We were helped onto the Med moors by another
cruiser and then helped Noel when he arrived. To
our surprise and delight, Ian and Judy on
Pen Azen

and Betsy & Bob on
Belair
were also in residence,
waiting to be hauled. We had not seen them since
Ecuador, some two years prior.

A view of the marina from the local high
point, Cerro San Antonio.

At its mouth, the Rio de la Plata is an amazing 118
miles wide, making it the widest river in the world.

Piri is a very laid back town. The people
are friendly and the area is quite
pleasant. A picturesque road along the
river called Rambla de los Argentinos
makes for a delightful walk and we used
it frequently heading into the small town
center.

Our casita was small and spare, but
adequate for our needs.

Francisco Piria officially bought the land here in
1890 and began development of the resort
town to attract wealthy Argentinians. The Hotel
Argentino pictured above was finished in the
mid-1930's and was the culmination of his
vision for the town he named after himself,
Piriapolis. The hotel still operates today as a
350-room European-style spa offering thermal
baths, a classic dining room and luxurious living.

A land of gently rolling grasslands and
wild Atlantic coastline, Uruguay is South
America's second smallest country.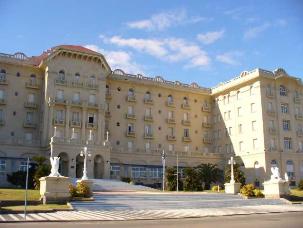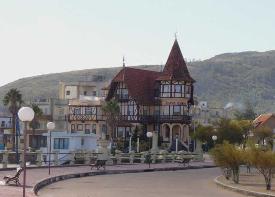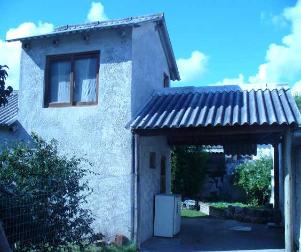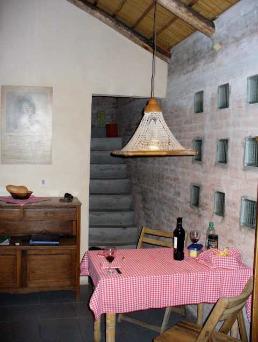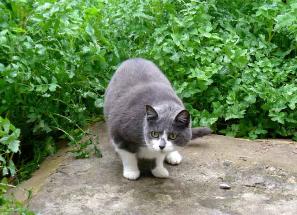 Furnished with the bare necessities, we
managed to make it a bit homey with our
own linens and special touches.

Jelly really enjoyed the change from the boat.
She stayed within our little garden area and
patrolled constantly to keep out birds and
especially other cats.

Founded in 1726, Uruguay's capital city,
Montevideo, is home to nearly half of the
country's population. Located on a natural bay
in the Rio de la Plata, we found the city to be
quite "Euro" in personality and enjoyed
wandering its many neighborhoods and streets
and admiring its architecture and culture.

Mercosur is a common market group
formed by Uruguay, Argentina, Brazil
and Paraguay. Bolivia and Chile are
associate members and in 2001,
Venezuela was also voted in.

If Cartagena is a city of balconies, Montevideo is the city of cupolas. While David searched for boat parts and services, Marcie took to the streets
with camera, photographing the posh remnants of the 1930s building boom.

Local Uruguayan beers include
Patricia, Norteño and Pilsen.

Uruguay is considered one of the safest countries
in South America. During our stay in Piriapolis,
we never locked or chained our bikes when we
left them to go into a store and our landlady
always left the car keys in the car.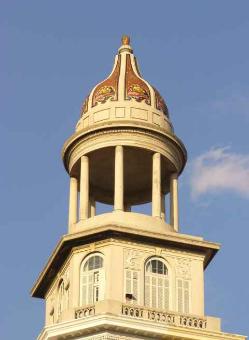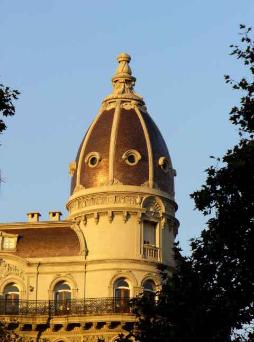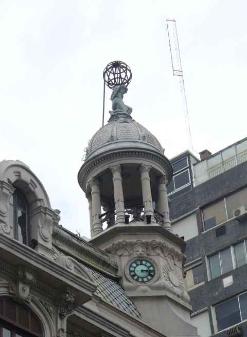 No special name to this building that I
could find, but I loved Atlas holding up
the world.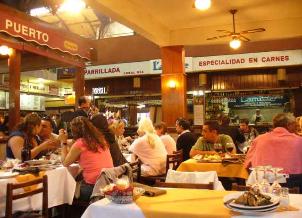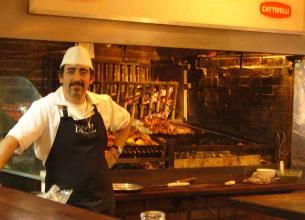 Mercado del Puerto is an institution in Montevideo. Dating back to 1868, the building is a wrought-iron
structure which houses dozens of shops and restaurants, especially parillas (grills), lined up next to one
another. Waiters stand at the entrance to their restaurants, beckoning you to come in for a meal. The
smell is mouthwatering as you enter…with beef, lamb, pork, sausage and fish sizzling on wood-fired
grills. We stopped in on a couple of occasions for meals which were excellent.

What's unique about Uruguay?


Whenever we visit a new country, we try to discover what is unique about
it…what makes it different from every other country we've visited? What
unique foods are offered? What cultural differences are there? Uruguay, for
such a small country, has several distinctions.


Foods:

Martin Fiero – membrillo dulce (candied quince) and cheese
is served as a dessert in many restaurants.
Chivitos – A steak sandwich loaded with tomato, lettuce,
a fried egg, olives, onions, ham, cheese. Yum!
Alfadores – A cookie sandwich filled with dulce de leche
Chajá – A meringue dessert claimed as a specialty of Paysandú.
Flan casero – Crème caramel usually served with dulce
de leche (sort of a caramel cream).
Tannat – a varietal dry red wine found only in Uruguay
and France.
Masas…small, rich, delightful pastries which we could buy at
DeVotos for about $1/kilo. Oh, man!


Interesting observations:

Everyone has a high trash bin several feet off the ground to

prevent


dogs and other animals from getting at the trash.




The houses are numbered only on larger streets. Otherwise,

houses


have names such as "La Vista" and this is used in the

address.




Mops are not used in Uruguay. A long handled squeegee with

a rag


wrapped around it is used for mopping up and appears

quite efficient.

In 1930, the world's most popular
sporting event, soccer's World Cup,
was born in Uruguay. And who
won, you ask? Uruguay, of course!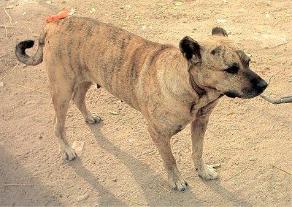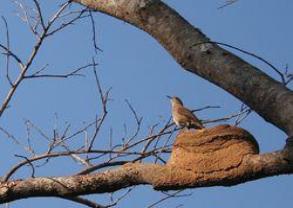 The
cimarron
is a breed of dog first bred in
Uruguay. T he brindled tan/black canine is
seen frequently and is about the size of a
German shepherd.

An interesting new bird was the hornero, so
named because of its distinctive mud nest that
resembles an "horno", the traditional clay ovens
still used here to bake bread. The hornero is the
national bird of both Uruguay and Argentina.

According to Hoyle, the card game
canasta originated in Uruguay and
reached the U.S. in 1949. From 1950
to 1952, it was the biggest fad in the
history of card games. The word
canasta in Spanish means basket.

Uruguay was the first country in
South America to legalize divorce.

In all, we spent nearly 5 months in Uruguay. We got to know many
people very well…both ex-pat American couples and native
Uruguayans and we were sometimes overwhelmed by their hospitality
and generosity. We had tours of vineyards, many dinners and
parrilladas at people's homes, rides, help, loans of cars and trucks. A
delightful experience and a positive exit from this remarkable continent.
Now we head across the South Atlantic Ocean to South Africa and
the rest of world awaits. Come with us? First stop,
Tristan da Cunha
,
the most isolated populated island in the world.

Perhaps the most distinctive sculpture we've seen was on the beach in Punta. "La Mano" by Chilean
sculptor Mario Irraragabal, exposes four fingers and thumb of a huge hand sticking out of the sand.
Brennan and Hannah had a good time climbing on the fingers and taking photos.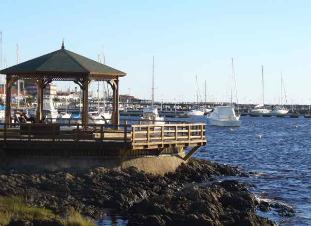 Our first stop in Punta was of course to check out
the yacht club pictured above. It was quite small,
but well maintained with good amenities.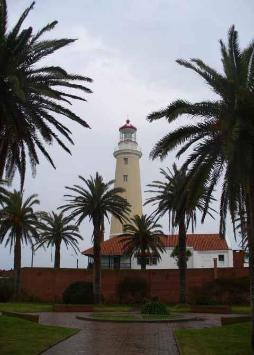 Punta's lighthouse was located high on a
hill and very picturesque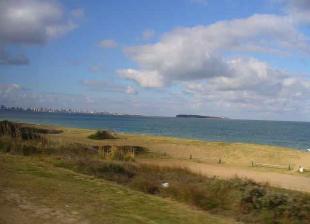 The Rio de la Plata and Atlantic collide off Punta
del Este's shores.

We visited the world´s only "undulating" bridge
in La Barra. You can watch as cars speed up
significantly to get a "thrill" as they cross.

Casa Pueblo is the unique villa and gallery of artist Carlos Paez Vilaro. Located at scenic Punta
Ballena, this unconventional house reputedly has no right angles...it's all curves and arches. The
museum/gallery was quite interesting. We noted a Piccasso-like quality to his work.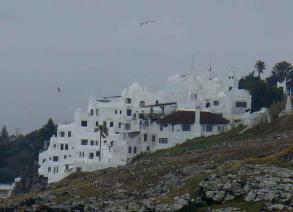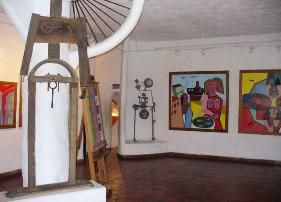 In 1755, Spanish authorities founded Maldonado
about 25 miles east of Piriapolis at the mouth of the
Rio de la Plata as an outpost to provision ships. The
city, though small, was pleasant to walk around and
we enjoyed visiting various museums and sights.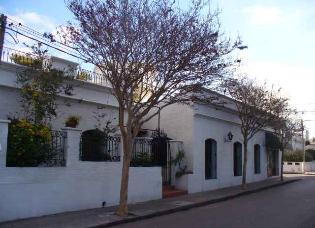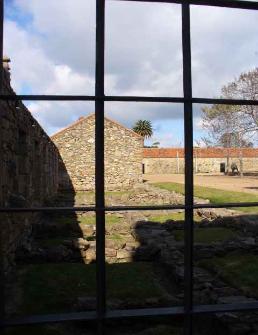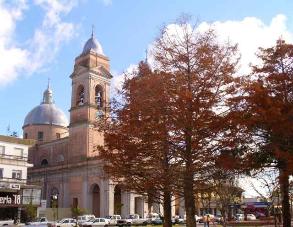 A window view from the street reveals
the Cuartel de Dragones, a block of
colonial military fortifications built
between 1771 and 1797 which now
houses a museum dedicated to Jose
Artigas and independence heroes.

Always prevalent on the Plaza San Fernando is
the Cathedral San Fernando de Maldonado,
framed with autumn colors.

For nearly 200 years, Uruguay was the
site of territorial struggles involving the
Portuguese, Spanish and British empires.

We visited the charming little town of Colonia del Sacramento. A jumble of plazas and cobblestone
streets, the place exudes history. Founded in 1680 by the Portuguese, the port occupied a strategic
position on the Rio de la Plata just across from Buenos Aires and became a key smuggling center for
contraband. The old portion, Barrio Historico, is a UNESCO World Heritage site and we wandered
the streets with Brennan and Hannah soaking up the ambiance.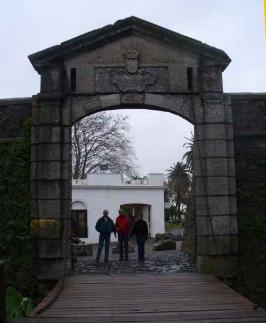 Once a walled city, only a portion of the
wall and the city gates remain.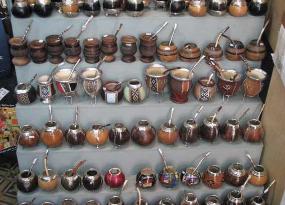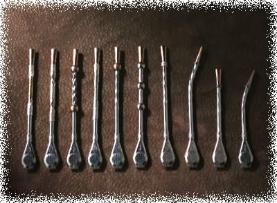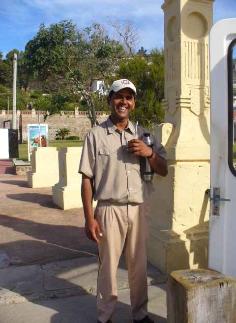 Like coffee to Americans, mate is the national drink of
Uruguay. In fact it's more than a drink…it's a lifestyle.
The word mate (mah-tay) is derived from the Quichua
word "mati", which means glass or drinking vessel, but
it has been generalized as the common name of the
fruit of a gourd plant especially the varieties used to
prepare and serve the infusion of yerba mate ("poro"
and "galleta"). Subsequently, the word mate was used
to refer to any kind of container as well as the drink
itself. According to the way this beverage is prepared,
it is known as:

"Amargo" (bitter), "verde" (green) or


"cimarrón": mates without sugar




"Dulce" (Sweet): prepared with sugar




"Tereré": bitter maté brewed with cold water



"Cocido" (cooked) or "Yerbeao": prepared like


tea




We never did see so much mate drunk anywhere more
than in Uruguay. People carried mate cups everywhere
they went. A mate cup was always in hand; a thermos
of hot water was carried in the crook of their arms
(you keep adding hot water to the thick herbal mixture
in the cup) and a bombilla (metal straw) was always
being sucked upon.

Our favorite guard from the Prefectura's
office, Enrique, always had a great smile
and his mate cup at his side.

Mate cups in every style and design.

Bombilla (bom BEE ja) selection