s/y Nine of Cups

Summer in New England and Back South

2001

We arrived in Bristol and left Cups on a
mooring for a couple of weeks as we
headed out to Denver for niece, Gentry's
wedding and youngest son, Brad's college
graduation. As always, the trip "home"
was wonderful. We got to spend lots of
time with old friends and relatives. But the
boat beckoned and we returned, happy to
be back on the water and heading North.

Jelly who had stayed at "summer camp"
was rather aloof for the first couple of days
we were back. Obviously, she was not
happy at having been left behind and was
careful not to show too much emotion at
our return.

Inner Harbor, Baltimore, MD - 39N16.55 / 076W36.30

Portland, Maine - 43N66 / 070W24

Lin, Kerry, Nicks and Lucy (Kerry's mom) met
us in Portland, Maine to celebrate the 4th.
Though the "boat" is definitely not her thing, Lin
managed to enjoy the Portland waterfront.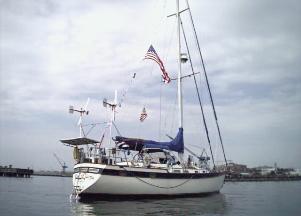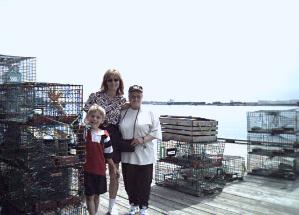 Cups got all spruced up for the 4th of July. We
watched a great fireworks display right from the
deck of the boat.

A Sailor's Tale…

Captain Blake was an excellent captain and
well-respected by his crew. He had a habit
of coming onto the deck each morning and
opening a gold locket which he wore around
his neck. None of the crew knew the
contents of the locket, but surmised it was a
picture of his wife or sweetheart whom he
missed dearly during the long months at sea.
The captain was a private man and no one
ever dared to ask.
During a particularly long voyage, the
captain became ill and died. While
preparing for the proper burial at sea, the
crew urged the First Mate to look inside the
locket to satisfy their curiosity. The First
Mate carefully opened the locket and shared
with the crew its contents. It was four
words only: Port = left, Starboard = right.

Southwest Harbor, Mount Desert Island, Maine - 44N16 / 068W18

From Portland, we headed to Mt. Desert
Island, Maine. As advertised, summer in
Maine was wonderful…fog and lobster traps
notwithstanding. We daytripped northeast,
but were anxious to get to Mt. Desert Island
which was the farthest north and east we had
gotten the year before. We spent about week
in and around
Acadia National Park
and
enjoyed all that it had to offer.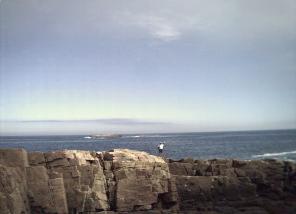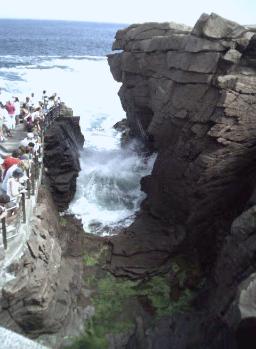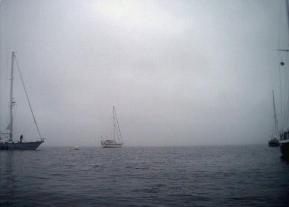 Acadia National Park is awesomely beautiful.
Free park buses run throughout the park on a
frequent schedule allowing us to roam and
explore at will. Above, David waving at me
from the Sand Cliffs and to the right, a great
view of Thunder Hole. We sailed up Somes
Sound, the only fjord on the Eastern US coast
and climbed Cadillac Mountain (1532'), the
highest peak on the US Coast within 50 miles of
the shore (whew!).

Above, David waving at me from the
Sand Cliffs and to the right, a great view
of Thunder Hole.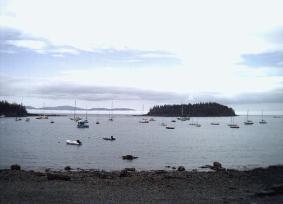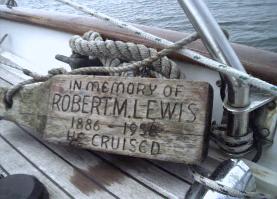 We sailed up Somes Sound, the only fjord on
the Eastern US coast. At times, the fogbanks
were thick as walls as we approached and
then they just swallowed us up.

While waiting for our dinghy engine to be
repaired in Bar Harbor, we motored over to
serene Sorrento Harbor across the bay for a
couple of nights. The town is quaint and
quiet. We visited the town library…honor
system for books and read a bit about the
history. We chanced to meet Beppie Noyes,
a long time resident who gave us a tour of
Tasseltop, the family home for generations
and one of the first "summer cottages" built in
the area.

We picked up a free mooring in Sorrento
Harbor and to the mooring line a floating
wooden plaque was attached in memory of
Robert M. Lewis. What a fitting tribute to a
cruiser. We respectfully saluted him as we
cast off the mooring.

From the ship's journal… 17 July 2001

"Mosquitoes…they descended last night around
dusk…no wind, fog rolled in and hordes of
mosquitoes. Even "Off" didn't keep them away.
The valiant mosquito fighter, Jelly, tried in vane
to catch and eat them, but finally surrendered in
defeat and took a nap. Trying to play cards, we
have a tissue full of dead bodies we've swatted."

From Mt. Desert Island, it was daytrips
again, anchoring in small, secluded coves.
Deep, deep water with significant tidal
changes. We were in Downeast Maine
now…fewer amenities, fewer towns and
cities and very, very close to Canada.

Back to the USA after a month in Canada
when we knew we could have easily spent
an entire season or two there. Nephew
Nicks was coming with us for a week though
and we needed to get to Camden to pick
him up. Our first stop back in the US was
Rockland, Maine where the local lobsters
were in "bloom".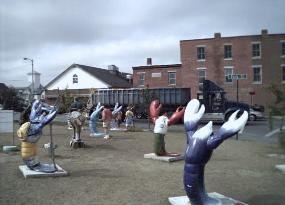 From Rockland to Searsport and then to
picture perfect Camden where we met Lin
and Kerry and picked up Nicks for his week
aboard Nine of Cups.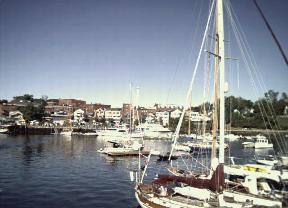 We're heading for
Canada
and excited about
the prospect. Join us!

We left Camden Harbor for Pulpit Harbor
and anchored overnight. Nicks did well,
but got bored. We decided it would be
best to leave very early in the mornings
while he was sleeping, sail awhile, then put
into port so he wouldn't be bored by so
much time sailing and could run off energy
ashore. The plan worked well.

We decided to head to places that Nicks
would never get via land and first on the list
was Monhegan Island which fit the bill
perfectly.

Monhegan Island is like a step back in
time. About 10 miles offshore, it's only 1.4
miles long by 0 .7 miles wide. Other than
private boat, the mailboats are the only way
to get here. The resident population is
small, mostly fishermen & lobstermen and
their families, but the natural beauty attracts
many artists from around the world.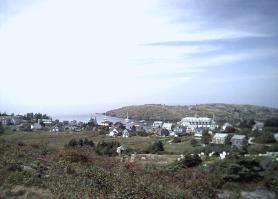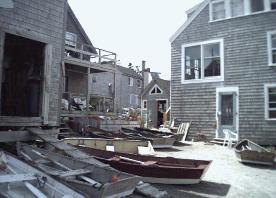 Monhegan Island, Maine - 43N76 / 069N31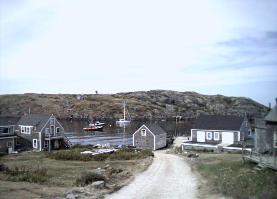 "Down East" can be best described as any
point on the coast between Ellsworth and
the Canadian border. At times, it is jokingly
referred to as any point along the coast,
east of the speaker.


The Down East, The Magazine of Maine

FAQ explains the origin of the term: "When
ships sailed from Boston to ports in Maine
(which were to the east of Boston), the
wind was at their backs, so they were
sailing downwind, hence the term 'Down
East.' And it follows that when they
returned to Boston they were sailing
upwind; many Mainers still speak of going
'up to Boston, despite the fact that the city
lies approximately 50 miles to the south of
Maine's southern border."

Monhegan Island view from the lighthouse.

Dusty footpaths are the main streets which
meander around gray-weathered houses are
the main streets of the island.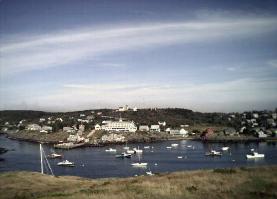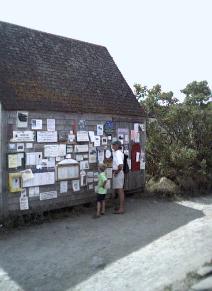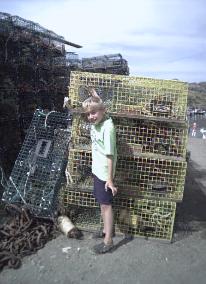 Signs of fishing and lobstering are
everywhere. In some places, the
lobster traps were piled high all
along the sides of the streets.
They voluntarily suspend
lobstering between June 25 -
Dec 31 to maintain the lobster
population. The island generates
its own electricity using gas
generators as well as solar power
and boasts the world's first solar-
powered post office.

David & Nicks scan the local
bulletin board on Monhegan
which seems an effective form of
communication & advertising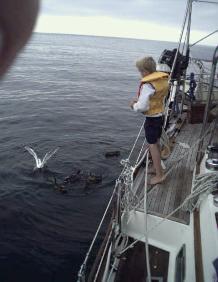 The anchorage was deep, but a
local fisherman directed us to an
empty mooring. Above, Nicks
enjoyed feeding the gulls and ducks.

Across the bay, Manana Island is
uninhabited except for an abandoned Coast
Guard station. The views are magnificent.
That's Cups' mast sticking up on the left side
of the photo.

X Marks the Spot ...The "X" actually shows
the location of faintly visible Norse runes
reportedly inscribed by Norse Explorers on
a visit to Manana Island centuries ago.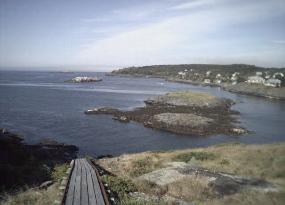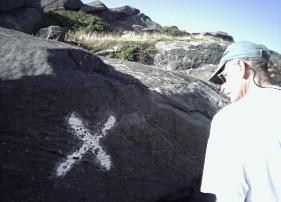 There is a small dock with stairs and a steep
ramp which runs up the cliff from the water
all the way across the island supposedly used
to get supplies from the dock to the Coast
Guard station in years past.

From Monhegan back to civilization and
really acting like tourists…Boothbay
Harbor. The trolley around town was free
and we took advantage of it.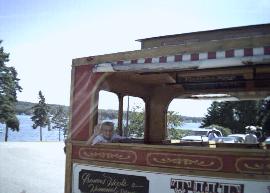 Boothbay Harbor, Maine - 43N84 / 069W61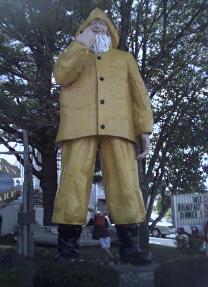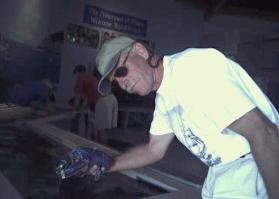 Blue lobsters? Most assuredly. Yellow ones,
too. Not very common, but we saw one in
Canada then again at the Marine Resources
Aquarium in Boothbay…in fact we even got
to hold them at the touch-aquarium.

This lobsterman statue was so
huge, you can barely make out
Nicks leaning against his big boots.

It was time for Nicks to go back home to
turn 7 and start First Grade. We rented a
car and drove him back to Boston, helped
celebrate his birthday, then returned to
Boothbay and began the trek back south.
Above, the Sagamore Bridge on Cape
Cod Canal at dawn.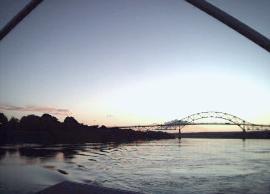 Where were you on 9/11/2001?

We were in Newport, RI awaiting Becky's
scheduled arrival in Providence the next day. Lin
called to tell us about the World Trade Center
disaster. We were grief-stricken and numb like the
rest of the nation. Without a TV on board, we
relied on National Public Radio aboard for all of
our news and updates. We ventured ashore to
watch some TV in a local pub, but decided it was
better if we stayed on the boat. We listened to the
radio and cried.
With all air transportation halted and most harbors
closed, we opted to sail up to Bristol, RI again and
have the boat hauled for an overdue "bottom job".

The Pillsbury Dough-girl applying a badly
needed coat of anti-fouling in Bristol. We
stayed in Bristol for nearly two weeks
working on Cups and waiting for things to
settle down then rescheduled Becky's flight
to Providence.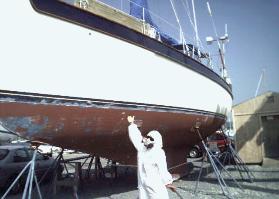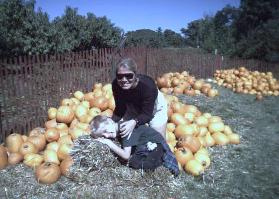 We lived with Lin & Kerry while working
on the boat and drove each day from Bristol
to East Walpole, about an hour each way.
Marcie got time off for good behavior and
had the chance to go apple picking and
pumpkin selecting with Lin and Nicks one
fine Fall day.

By the beginning of October, things
were getting back to normal. Planes
were flying and the President was urging
citizens to get back to living again. We
hesitated to ask Becky to come out
now, but she didn't hesitate for a
minute. She was on a plane and arrived
safely in Providence to begin a 3 week
sail from Bristol to Baltimore through
New York City.
We did mostly day trips to start,
hugging the southern Connecticut coast
and taking our time. Becky never had a
problem. She never got seasick and she
never got tired of sailing or being on the
boat despite the fact that she celebrated
her 84th birthday aboard!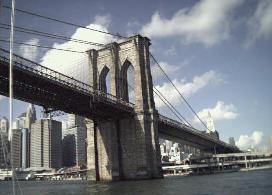 We had passed through Hell Gate and New
York City last year, but this time it had new
meaning. We passed under the many
bridges, including the most famous above,
Brooklyn Bridge. There were innumerable
Coast Guard and harbor police vessels
present and we could only be under way
between the hours of 8am – 4pm.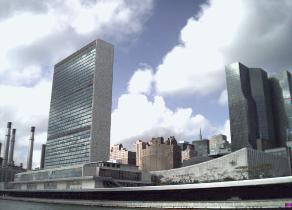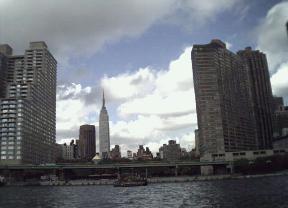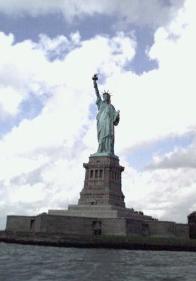 We sailed so close to the UN Building, we
could almost touch it.

The World Trade Centers were conspicuous
by their absence. Last year we had seen them
on the skyline and this year no more. We
didn't venture close enough to see any rubble,
but the cranes and cloud of smoke was
evidence enough of the disaster that had
occurred. Above, the Empire State Building.

The ever-beautiful Lady Liberty

From New York City we traveled south but
ran into a gale and anchored in Sandy Hook,
NJ for a couple of days. Very rough, high
winds, big waves and Becky never
complained for a minute. It was all part of the
adventure.
We celebrated her 84th birthday while at
anchor in the Harbor of Refuge, Cape
Henlopen, Delaware at the entrance to the
Delaware River. A chocolate cake was
baked and frosted and minimally candled.
Her gift…an entire day of card playing!
We ventured up the Delaware and through
the C & D Canal and into Chesapeake Bay.
We sailed down the Chesapeake and
anchored on the Sassafrass River one night
making our way to Baltimore.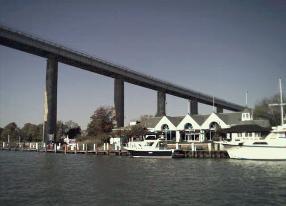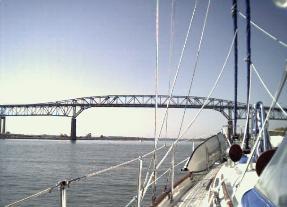 The entrance to the C & D Canal

Scenic Chesapeake City along the C & D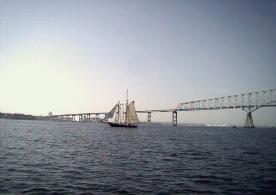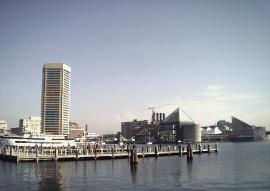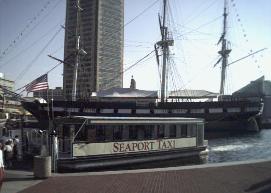 The entrance to Baltimore is under the
Francis Scott Key Bridge.

Baltimore's Inner Harbor is beautiful and
we stayed right in the middle of it at the
Inner Harbor Marina.

Baltimore's Inner Harbor water taxi in the
foreground and in the background the
tallship, USS Constellation.

The 14-mile long Chesapeake and
Delaware Canal (C & D Canal) connects
the Delaware & Chesapeake Rivers.It is
one of the few fully sea-level shipping
canals in the world.

Becky returned to Denver and we headed down the
Chesapeake. We anchored a night in Annapolis and
then stopped in Solomons Island for a couple of
days. This pretty community was fairly well closed
down for the season but we enjoyed the scenery.
On the move again, it's nearly November and
getting colder and colder at night. We're slowly
moving down the Chesapeake. Finally, we were
in Norfolk…the end of the Chesapeake. We
stayed a couple of days here, debating whether to
go on the "outside" or follow the ICW. We decided
it was faster and more enjoyable for us to risk going
around Cape Hatteras. From Norfolk, it was a direct
passage to Charleston…our final destination in 2001.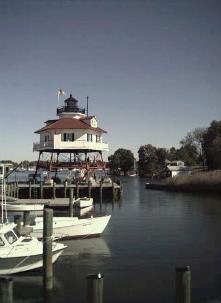 The Drum Point Lighthouse shown
here is the typical architectural style
of lighthouse found in the
Chesapeake.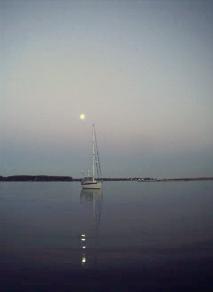 We anchored in Ingram's Bay one
night and photographed Nine of
Cups not only in the moonlight, but
in the light of a blue moon. A "blue
moon" occurs when there are two
full moons in a month and it's the
second moon.

The IntracoastalWaterway
, ICW for short, or
"the ditch" as cruisers refer to it, is a 3,000-mile
(4,800-km) waterway along the Atlantic and Gulf
coasts of the United States. Some lengths consist of
natural inlets, salt-water rivers, bays, and sounds;
others are artificial canals. It provides a navigable
route along its length without many of the hazards of
travel on the open sea.

Norfolk, VA - 36N50 / 076W17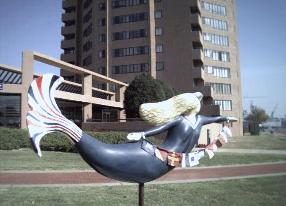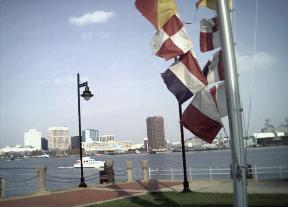 Just as Chicago had its decorated cows and
Rockland had its illustrated lobsters, so
Norfolk has its mermaids all decked out and
on display throughout the city.

Norfolk is a pretty city as viewed here from
across the river at Portsmouth.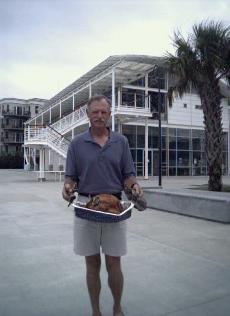 Charleston Maritime Center, Charleston, SC - 32N47 / 079W55

We were back in Charleston in time for
Thanksgiving. The oven on board
Nine of
Cups
isn't big enough to accommodate a
turkey so the Maritime Center let us bake our
pies and roast our turkey in their oven even
though it required a separate trip in for the staff
to open and lock the kitchen since the marina
was closed. Our friends, Cindy and Steve
from
Celadon
joined us for the Thanksgiving
feast.

Cindy Mahan died of breast cancer on January
1, 2002. Read Marcie's
Tribute to Cindy
.

We hadn't seen Marcie's parents since our
visit to St. Pete with the boat in June 2000 so
we decided we'd spend Christmas with them
in Largo. We left the boat in Charleston,
rented a car and spent a terrific week with the
folks and enjoyed the holidays. Jelly came
with us, of course, but didn't stay with us in the
"condo" my parents rented for us. Oh, no, she
spent all of her time with her grandparents
getting spoiled.

Another year end. We were back at the boat
on December 27th and celebrated a very
chilly New Year's Eve dockside with fellow
cruisers. The year has passed quickly as they
all do now. We sailed a total of 5,203 nautical
miles this year…9328 cumulative miles since
leaving Kemah, Texas in May 2000.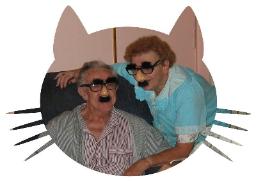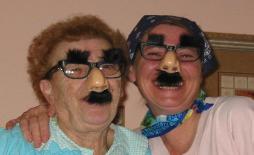 David carries Big Tom to the boat.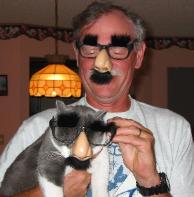 Santa brought new glasses
for everyone!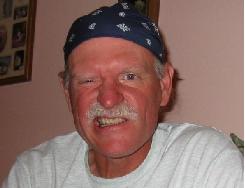 David got new pirate gear! Arrr!

It's been a great year. We've learned lots about the boat and ourselves,
traveled all up and down the Eastern seaboard and seen a bit of Canada and
we're ready to start a new adventure this year. Come with us as we head back
to the
Bahamas in 2002
.

Ship's Library...

Crew's Choices for 2001


Seagulls in My Soup

by Tristan
Jones…great nautical tales (some quite


tall!)



The Ashley Book of Knots

by
Clifford Ashley…a compendium of
more than 3900 practical knots with
illustrated diagrams. Actually, we
bought this after reading "The Shipping
News" which provides a quote from
Ashley at the beginning of each


chapter.



A Prayer for Owen Meany

by John
Irving…well written, great characters
and a unique hero in Owen Meany.

Add to the Vocabulary:


Casuerina
– extremely tall, narrow trees which stand out on the horizon and are sometimes used
as landmarks on which to take a heading.


Downeast Maine
– Maine north and east of Mt. Desert; so-named because to get there from
lower New England, you needed to travel east and downwind.


Wharfinger
– Canadian term for dockmaster


Bluenose
– the nickname given to Nova Scotians supposedly because the wool mittens and
sweaters traditionally worn were dyed blue and rubbed off when wiping runny noses in the winter
time; also the name of the famous fishing schooner pictured on Canadian dimes and stamps.


Lunenburg "bumps"
– an architectural convention around the turn of the 20th century in many
Lunenburg, Nova Scotia homes where the front porch area "bumps" out as an addition from the
rest of the house; supposedly to accommodate the addition of indoor plumbing on the upper floor
when it became available.


Saltbankers
–Boats which fish the Grand Banks and fill their holds with salted cod.

On the Menu:

Kalik – native Bahamian beer




Souse – Bahamian chicken stew



Conch – pronounced "conk"; a gastropod and the main ingredient for several Bahamian
dishes including conch chowder, conch salad, scorched conch and cracked conch. Once
the animal leaves the premises, the resulting shell is used as a horn to notify fellow cruisers


that it's time for a "sundowner", i.e. evening cocktail.




Dulce – in Canada, a purple seaweed which is dried and commercially sold as a delicacy.




Blue lobster- a bright blue lobster which, when cooked, tastes and looks as usual



Screech – rum-based liquor drink of Newfoundland