s/y Nine of Cups

A Visit to an Embera'Puru Village

June 2008

David inspects the basket-making process.
All the materials are natural including the
dyes used to color the fibers.Tagua and
wood carvings were also discussed.

Fay washes her hands in water and
fragrant herbs.

Lunch was great...patacones (plantain) and fish
(tilapia) served in plantain leaves cleverly
fashioned into disposable dishes.

A vibrant "hot lips" plant.

David joins in a lively dance
exhibition.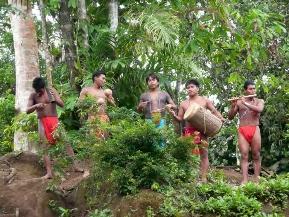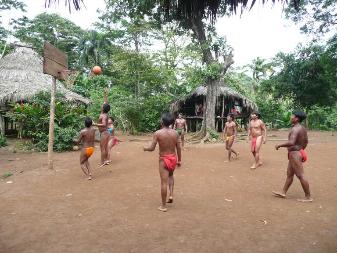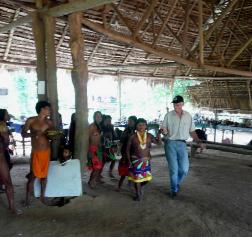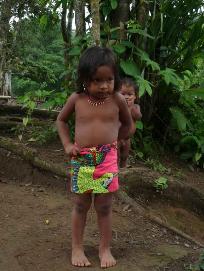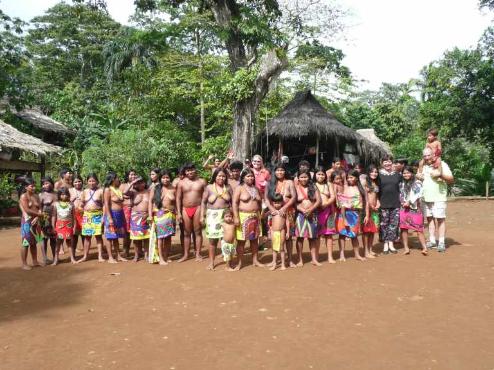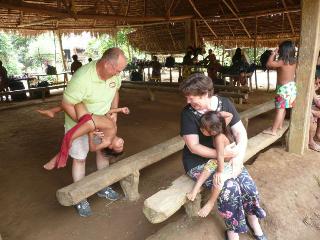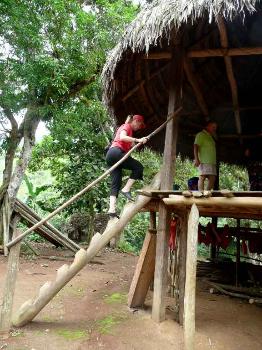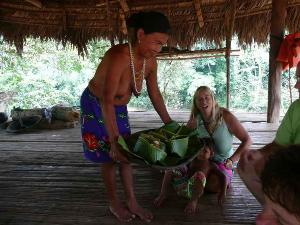 Anne Gordon, our guide and an American,
is married to an Embera fellow and so
provided a unique perspective of cultural
and family life in the village. She was great!

We were looking for something fantastic to do with Fay &
Doug for their last day in Panama with us. I sought out Trip
Advisor's Top 10 Things To Do in Panama City. We had
done several of the 10...we transited (rather than just saw)
the Panama Canal and did a walking tour of Casco Viejo (the
old city), but the #1 thing to do was an Embera'Puru village
tour. All in favor...Say Aye. Unanimous...so off we went!

When we reached the river pick-up point, we
stocked up on water and snacks for the long
canoe ride ahead. The Embera tribe is one of
several indigenous groups in Panama.

Our Embera helmsmen were waiting for
us by the river. The ride was about 2
hours long and sometimes the river was
so shallow, we all jumped out to coax
the canoe along.

Rio Juan de Pequini is in the Parque Nacional
Chagres. Above, a cormorant tree?

Several indigenous villages are located along
the river, however this was our stop.

A warm, muscial welcome awaited us as we
debarked from the canoe.

After a round of introductions, we went to
the meeting hut for a village orientation
which explained a bit about the people and
their culture. Marcie gingerly climbs the
notched-log ladder.

After lunch, Fay and Marcie had their ankles
tatooed with hagua, a temporary dye derived from
a local plant. As advertised, it only lasted 2 days.

We also had the opportunity to "shop". We all bought baskets
and crafts, but my favorite purchase was the monkey mask
above made by Ermelinda, also pictured above. The masks are
worn by the shamans during various ceremonies.

We took a walk in the forest with Anne's
father-in-law. He pointed out various plants and
herbs,explaining their uses. Many were for
different types of snake bites..."this one is for bites
that bleed"..."this one is for bites that turn
black"..."this one is for bites that cause breathing
problems". Hmmm... but the only one we saw,
however, was a harmless casadora.

The kids weren't shy.

It was obvious that the children are the center of
the community...well cared for and greatly loved.

This chica loved Doug's hat!

Woman typically wear wrap-around
skirts called "parumas"...even the little
tiny girls were decked out for our visit.

A rousing game of basketball. They weren't much for
dribbling (on the dirt), but they certainly were good ball
handlers and hoop shooters. We appreciated the fact
that the American influence here was something other
than fast food and video games.