s/y Nine of Cups

Roadside Americana - Nevada, USA

May 2012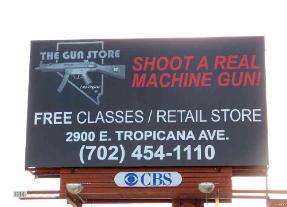 The right to bear arms... sure, it's a US
Constitutionally guaranteed right...but
machine guns??? advertised on billboards?

Since David's mum and sister live
in Las Vegas, Nevada is the first
place we visit when we arrive in
the States. We're registered
voters in Nevada and maintain
our driver's licenses here. It's an
interesting place, situated in the
middle of the Mojave Desert and
"quirky things" abound. Here's
just a sampling.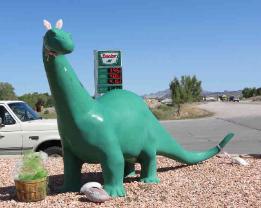 A Sinclair dinosaur dressed for Easter
Alamo, NV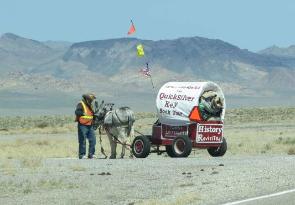 Covered mule-drawn wagon???
Rte 375, Nevada

Open range cattle crossing - Rte 375
Stay in the crosswalk!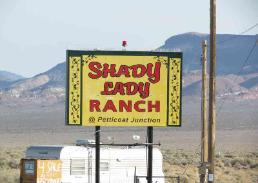 Brothels are legal in Nevada and they
even advertise on billboards.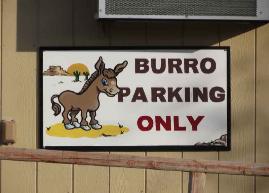 There were lots of feral burros
in Beatty, NV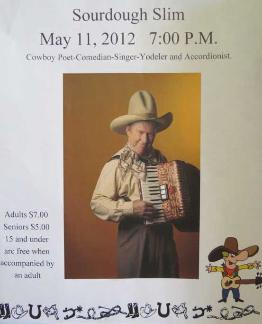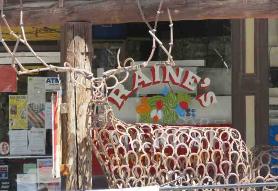 Above,Raines Market in Eureka, NV
featured a sculpture of an elk fashioned
from horseshoes. Left, Sourdough
Slim, cowboy poet, comedian, singer,
yodeler and accordionist really got
around. His posters were everywhere.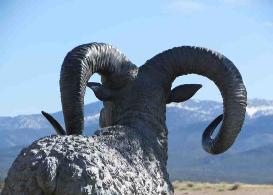 How often does McDonald's provide
such a photo opp? In Ely, NV, this
bronze big horn sheep was perfectly
placed on McDonald's lawn.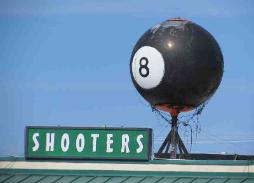 Big 8-Ball sits atop a billiards parlor roof
in Ely, NV