s/y Nine of Cups

Colorado USA ... Rocky Mountain High

Summer 2010

Colorado Facts...


Capital:
Denver

Area:
104,100 sq mi
(8th largest in the US)

Population:
~5 million (est 2009)

High Point:
Mt. Elbert, 14,433 feet

Low Point:
Arkansas River, 3,315 feet

State Nickname:
Centennial State, Colorful
Colorado

State Flower:
Rocky Mountain Columbine

State Bird:
Lark bunting

Colorado was the 38th state in the USA and entered
the union on August 1, 1876, centennial year of the
USA, hence its state nickname.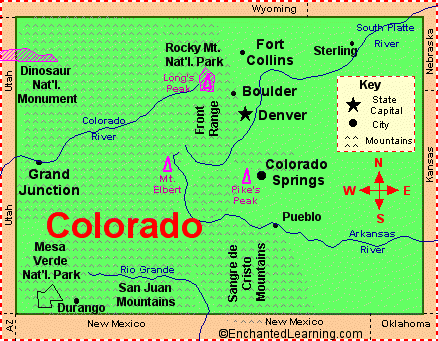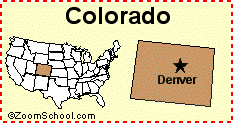 The word Colorado is
Spanish for the "color
red," and refers to the
muddy Colorado
River. The Arkansas,
Rio Grande and Platte
Rivers also flow
through the state.

In order to accommodate our schedule
and everyone else's vacation schedules,
we planned to continue cross country to
the northeast coast to visit Marcie's
Mom and sister and family and then
return to Colorado. So off we went, but
we'll return to Colorado soon. In the
meantime,
next stop...Nebraska
!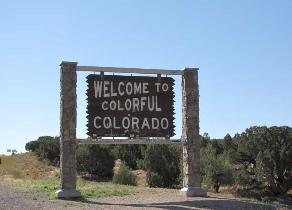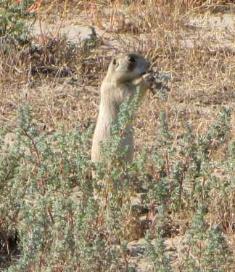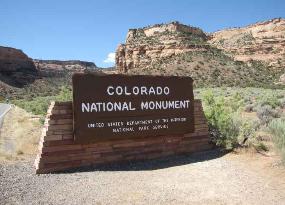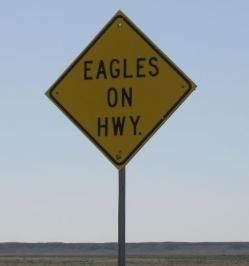 There's always that special feeling when you
enter "home territory" and that's how we felt
when we crossed the state line into Colorado.

Sunflowers and prairie dog towns
lined the highway.

Talk about feeling at home...where else
in the world would you see this sign?

Colorado National Monument, Colorado - 39N10.26 / 108W73.51

We stayed our first Colorado night in Grand
Junction and stopped at the
Colorado
National

Monument
to celebrate the 4th of July.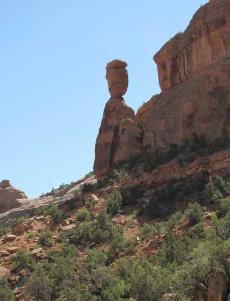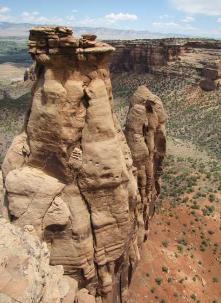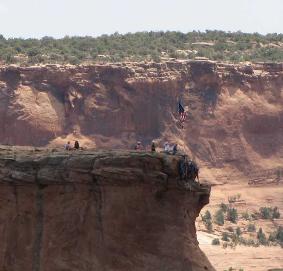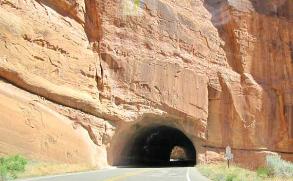 Left, climbers ascended the sheer cliffs of
Independence Rock to raise the US flag for
Independence Day. Above, a tunnel through
sandstone along the scenic drive through the park.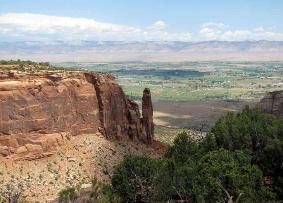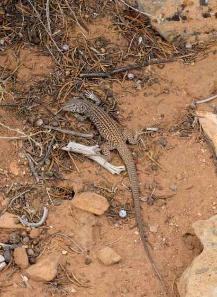 Once again, the sandstone rock
formations were awesome.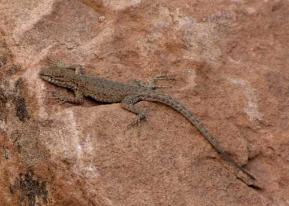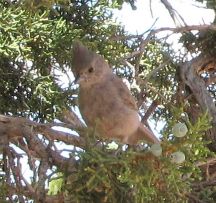 Juniper titmouse watches us picnic.

Denver, Colorado - 39N66.57 / 104W79.06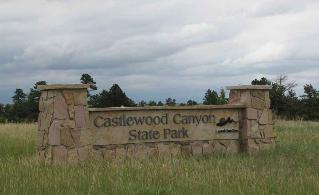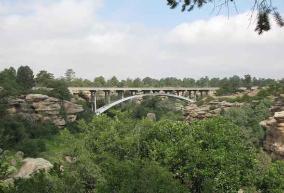 Our visit to Denver was a busy, busy time,
mostly catching up with relatives and friends.
We had the chance to visit with grandkids
on several occasions. All are getting taller
and older...go figure... and we barely
recognized them. Our excursions included
visits to
Castlewood
Canyon State Park
,
the Denver Zoo (world class!), Broomfield
Park, the Wildlife Sanctuary, Rocky
Mountain Arsenal Nature Reserve
(wow...what a change that is!) and a private
concert with Amy Brinkman-Davis.

We used to take our kids here when they were
young and now we're taking our grandkids. Oh my!

David's Dad helped to build the original
bridge here as part of the CCC effort.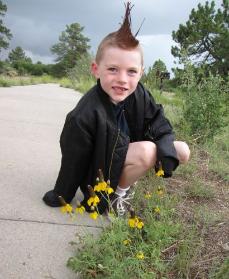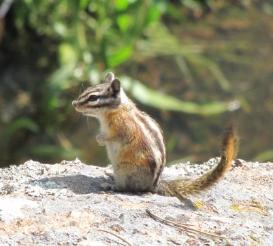 Grandson, Coleman (8), is sporting
quite the mohawk.

The local chipmunks made an appearance.
The boys took cameras and it found it quite a
challenge catching shots of these little guys.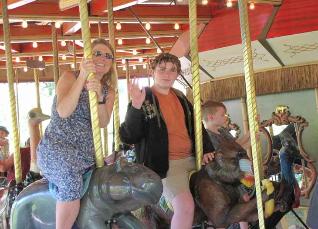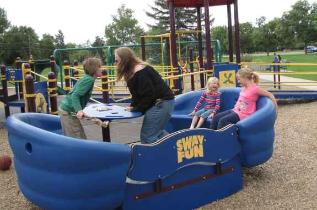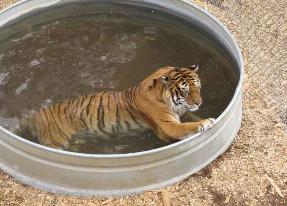 Fun at a Broomfield park with Brad's family...Cat
(his wife), Jacob, Kaileah & Danielle.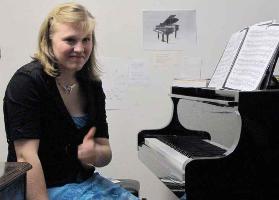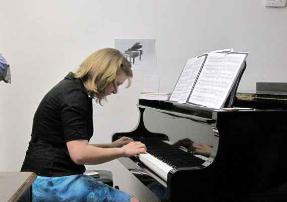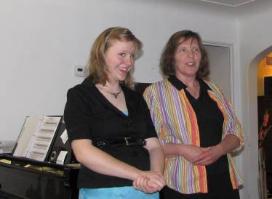 We were fortunate enough to be in town
when
Amy Brinkman-Davis
was giving a
private concert. Above, she's intense during a
particularly difficult piece.

Having been at her birth, it was astounding
to see her all grown up, self-assured and so
very accomplished in her music. The
thumbs-up came after a "clean run".

After the concert, proud mom, Marlys,
said a few words as Amy relaxed for the
first time all evening.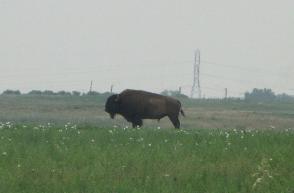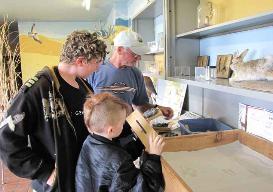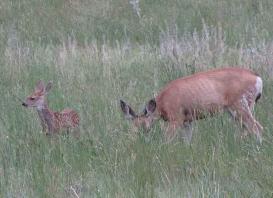 The
Rocky Mountain Arsenal
, previously a
chemical weapons manufacturing facility, as its
name suggests, is now a wildlife reserve with a
herd of buffalo (American bison) in residence.

Taylor and Cole enjoyed exploring what
the visitor center had to offer.

This 12,500-acre expanse of short grass
prairie has survived the test of time and
transitioned from farmland, to war-time
manufacturing site, to wildlife sanctuary.
Above, mule deer and fawn graze.

Interesting Colorado trivia...

Denver lays claim to the invention of the


cheeseburger. The trademark for the

name


Cheeseburger was awarded in

1935 to


Louis Ballast.



Colfax Avenue in Denver is the longest


continuous street in America




Grand Mesa

boasts

the world's largest

flat-


topped mountain.



The Eisenhower Tunnel between Clear
Creek & Summit counties is the highest


auto tunnel in the world.




Leadville is the highest incorporated city

in


the United States at 10,430' elevation.




The highest of mountain passes in the US

is


on the seasonal Trail Ridge Road in

Rocky


Mountain National Park at

12,183

'.

The Colorado Rockies are part of the
North American Cordillera, which
stretches 3,000 miles from Alaska, through
western Canada and the United States,
into northern Mexico. The centerpieces of
this dramatic uplift are the peaks over
14,000', or "Fourteeners", as they are
affectionately referred to by climbers.
There are 52 Fourteeners in Colorado.
David has climbed 32 of them and our son,
Brennan, has bagged 50.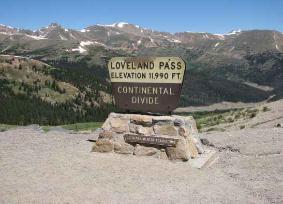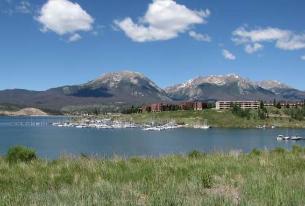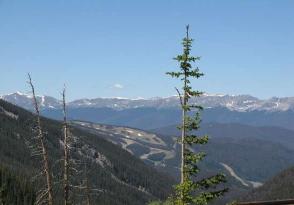 We continued on towards Denver and
detoured just a little to go over Loveland Pass.

Manmade Lake Dillon and its little lake marina.

Beautiful view abound in the mountains.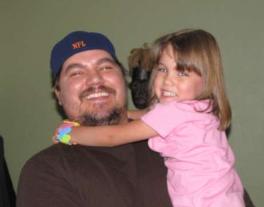 A visit with our nephew, Gordo, allowed
us a chance to meet our grand-niece, Ava.