s/y Nine of Cup
s

Nevada USA

2010

Nevada...hmmm! Not part of the sailing plan. One
thing we've learned while cruising...all plans are subject
to change. With NZ departure plans made for Fiji, we
received word from home that David's sister could use
a little help back home caring for David's 92-year old
mom, Becky, who had just undergone hip replacement
surgery. So...in a matter of three days, we got "Cups"
on a mooring and ready for our prolonged absence.
We got ourselves packed, booked travel and were
back in the USA. We actually left Auckland on 12
May at 1:30 pm and arrived in Los Angeles, CA at
7:30am the same day. In essence, we arrived 6 hours
before we left. Quite efficient, don't you think?
So...we are spending the NZ winter and the northern
hemisphere summer in the desert of Las Vegas...a far
cry from winter in cold, wet, windy Opua and a major
adaptation. However, when life gives you
lemons....make LEMONADE! Becky (Mom) is
recuperating nicely. We bought a car and we're
planning on learning more about Nevada. Come with
us as we explore America's southwest.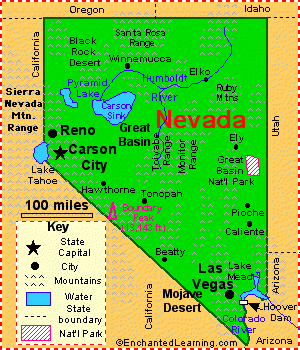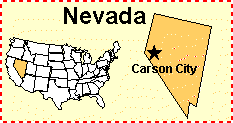 For those of you (including Americans) who aren't
familiar with US geography, here's a map of the
State and its location within the country.

Nevada facts....

Capital:
Carson City

Largest city
: Las Vegas

Population:
2,643,085 (est 2009)

Area:
110,567 sq mi; 7th largest state
in the USA

Highest Point
- Boundary Pk - 13,143'

State Nickname
- Silver State,
Sagebrush State, Battle Born State

State Flower:
Sagebrush

State Bird:
Mountain Bluebird


Nevada
borders California to the west, Oregon
and Idaho to the north, Utah and Arizona to the
east and New Mexico south.

A 12-hour direct flight from Auckland to Los Angeles and oh
my, we were in a rental car (driving on the right once again) in
one of the largest cities in the world. A few miles of freeways
and we were headed north and west to Nevada through
mountains and desert.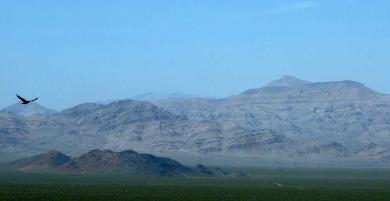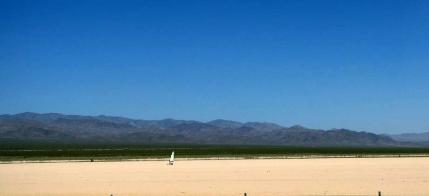 Instead of ocean sailing, we watched as people used the wind to sail
over the flat desert sands.


Traveling at 70 mph (110 km/ph) instead of 5-6 kts, we passed through California and into Nevada in just a few hours. The difference in terrain was negligible. However, Primm, Nevada
(formerly known as Stateline) is anything but prim! In the 1920s Pete MacIntyre, known locally as "Whiskey Pete", owned a gas-station at the stateline. Pete apparently had a difficult time
making ends meet selling gas so he resorted to a little bootlegging. When Whiskey Pete died in 1933, legend has it that he wanted to be buried standing up with a bottle of bootleg in his hands
so he could watch over the area. Whiskey Pete's unmarked grave was accidentally exhumed while workers were building a connecting bridge from Whiskey Pete's to Buffalo Bills Hotel and
Casino (on the other side of I-15). The body was moved and is now said to be buried in one of the caves where Pete cooked up his moonshine. Beyond Primm, there's nothing much for
miles. The brown desert sands were dotted with cacti, joshua trees and sagebrush. Wildflowers, springing from nowhere along the side of the road, provided a splash of color. Above right, a
desert-globe mallow in bloom. And in no time...we were in Las Vegas...proverbial sin city.

Rather than try to explain what the Las Vegas Strip is like, I present a collage of some photos I took while we drove up and down the Strip early one Sunday morning. At 0630, it was
jammed with cars and people. There was a cacophony of sound and a riot of color and glitz...too much for the mind to comprehend in one pass through. From pawn shops and drive-through
wedding chapels, to the luxurious themed hotels sporting a Sphinx, an Eiffel Tower, Lady Liberty, Caesar et al, sky towers, a circus, amusement park, pirates of the Caribbean...the list goes
on and on. You can pawn most anything, buy most anything, do most anything here. Gambling, prostitution, drinking...all legal.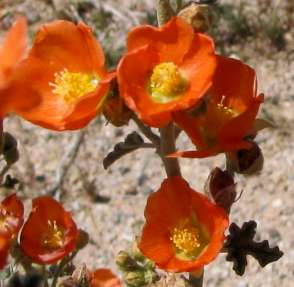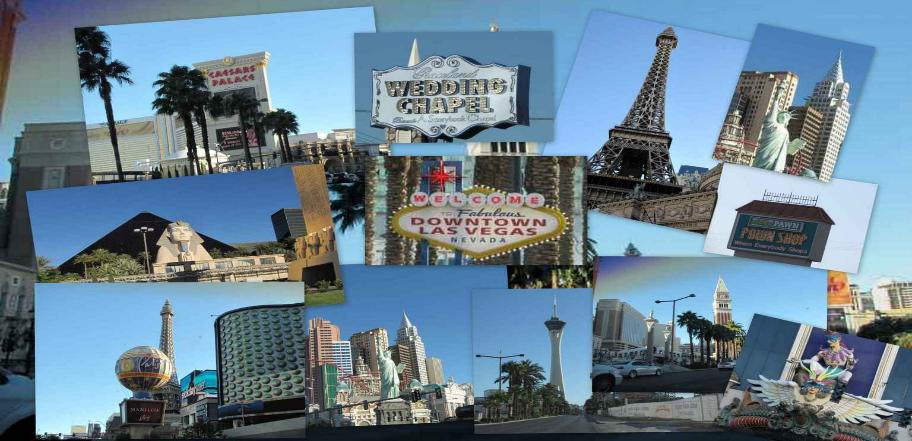 A little history about Las Vegas...
.
* Some 10,000 years ago the area was visited by nomadic Paleo-Indians. Anasazi inhabited the area around 2,000 years ago and Paiute people also explored this area. Recently a cache of
corn dating back 2,000 years was unearthed in the Wetlands Reserve nearby.
*The first European to explore the area was a Spanish scout, Rafael Rivera, who in 1829 discovered a valley with abundant wild grasses growing and a plentiful water supply which he named
Las Vegas, Spanish for "The Meadows."
*The discovery of minerals lead to mining, a railroad station in the late 1800's and the formal founding of the city in 1905.
*Hoover Dam construction began in 1931 and led to influx of workers.
*Nellis Air Force Base situated here in WWII because of location, flat terrain and weather.
*Mobster, "Bugsy" Siegel buys land and builds the first major hotel/resort "The Flamingo" in 1947, named for the long legs of his sweetheart.
*Today's Las Vegas is a long way from Rivera's first glimpse of the "meadows"...glitz and gambling.

But Nevada is not just Las Vegas and it's not
all gambling and vice...really! We're finding that
this is only a small part of what Nevada really
is. We managed a daytrip to Mt. Charleston,
just 35 miles north of the city, but a whole
world apart and about 20-30 degrees cooler.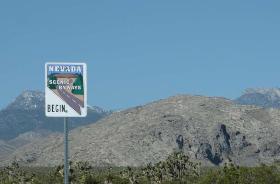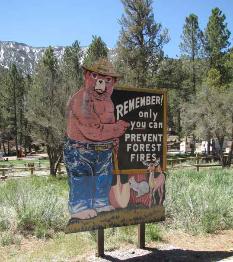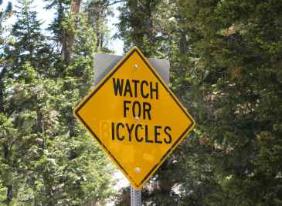 The area is very scenic and Nevada has
made the most of posting "Nevada Scenic
Byways" signs.

An old friend of the US Forestry
Service... Smoky Bear was created
in 1944 and is the longest running
public service ad campaign in U.S.
history.

The temp on the mountain was drastically
cooler than in Las Vegas and there was still
snow on the mountainside. Someone with a
sense of humor did a little creative alteration
to the sign above.

Mount Charleston, formally named Charleston
Peak, at 11,916' (3,632 m), is the highest of the
Spring Mountains of southern Nevada and the
state's eighth highest mountain peak.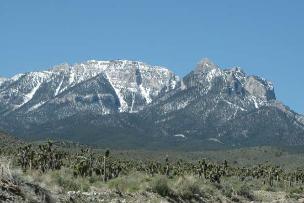 Nevada
is from the Spanish word meaning "snowcapped." Nevada is, in fact,
the most mountainous state in the US with more than 300 named mountain
ranges, all running north-south as part of the Great Basin complex.

Nevada's nickname is Silver State, due to
the large number of silver deposits that
were discovered and mined here.
"Sagebrush State" (the state flower) and
"Battle Born State" are its alternative
nicknames. In 1864, Nevada became the
36th state to enter the union, and the phrase
"Battle Born" on the state flag reflects the
state's entry on the Union side during the
American Civil War. Its first non-native
settlement was called Mormon Station.

Las Vegas - 36N10 / 115W12

Mt Charleston - 36N25.7 / 115W64.3

Clark County Wetlands Park - 36W09.36 /115N024.11

Oh, wow...
Clark County
Wetlands
Park
is
a gem! We discovered it was practically in our
backyard...a little over a mile away. Wetlands
is part of the Las Vegas Wash, the final link in
the Las Vegas Valley's water supply which
carries an average of more than 150 million
gallons of water a day to Lake Mead (home of
the Hoover Dam). The Wash serves 4
functions: provides channels for all excess
water; the vegetation "polishes" the water;
provides a wildlife habitat and serves as a
recreational area.
Wetlands Park is a 2900-acre, seven- by
one-mile strip of land on the eastern edge of
the Las Vegas Valley and borders both sides
of Las Vegas Wash as it flows past
Frenchman Mountain and the red sandstone of
Rainbow Gardens on its way to Lake Mead.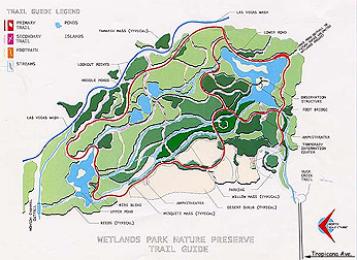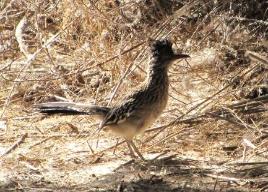 Because of its numerous paths, birds and wildlife, we
began visiting frequently...especially early in the morning.
In addition to birds, we've seen desert cottontails, lizards,
coyote and chipmunks. Wheelchair accessibility make it a
good spot for Becky to share the park with us.

There have been supposedly 288 identified
bird species in the park. We're only
beginning to identify them, but the
roadrunner above was a particularly good
sighting. Beep-beep! We've added a
special page for
Birds
of the Southwest
.

Prickly pears were also in bloom

Henderson Heritage Museum, Henderson, NV - 36W04 / 114N98

As Becky continues her recovery, we take more and
more daytrips in and around the Las Vegas area. One
such trip was to the
Heritage Museum
in
Henderson...the next town over. The museum exhibits
take visitors through an historical journey from the Ice
Age to the Age of Entertainment including Native
American tribal life to pioneers and their daily lives,
early town-sites and land auction camps, mining
technology and the gaming and entertainment heritage
of Las Vegas. A separate whole avenue, Heritage
Street, across from the main building, offers doorways
into past decades, from the 1910s to the 1970s. We
found it a most enjoyable day and the Senior (50+)
entry fee was $1.00...what a bargain!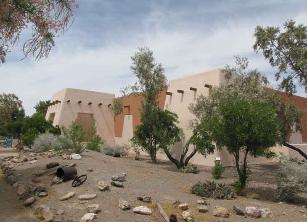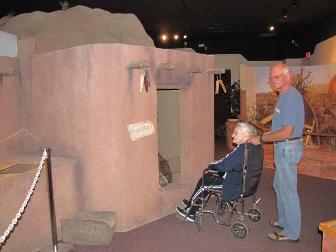 The adobe structure of the museum's main
exhibit building and the grounds were definitely
in keeping with southwest architecture and
landscaping.

Palo verde trees were in bloom...a beautiful
contrast to the desert's browns.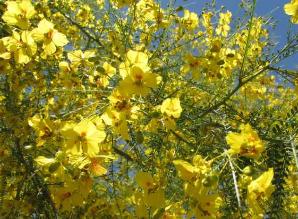 Exhibits included information on the history and culture
of the ancient Pueblo and more recent Paiute native
Americans.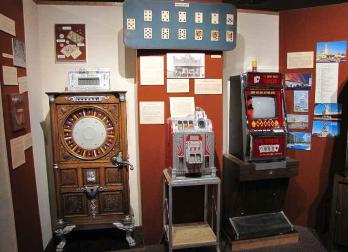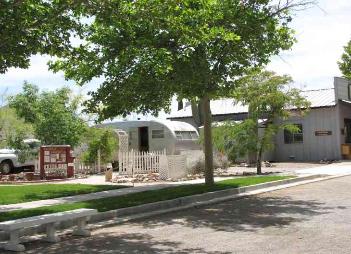 Impossible to explore Nevada's history without including
slot machines and the gaming industry.

Heritage Street allowed us entry into several period
homes from different 20th century decades complete
with period furnishings...a flash from the past including
an old mobile home set in a trailer park.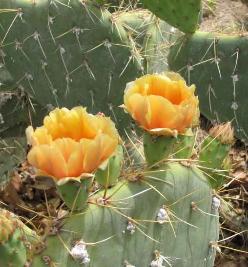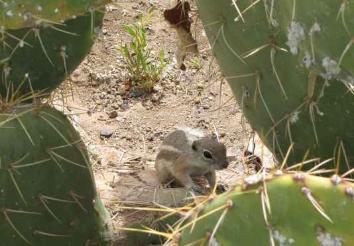 While photographing the cacti, a local got into the picture.
I thought originally it was a chipmunk, but learned
subsequently that it was instead, a ground squirrel.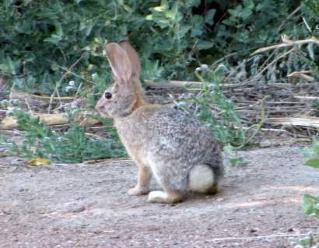 Wesaw several desert cottontails on the grounds
although the photo above was taken at a much
greener Wetlands Park.

Henderson Bird Viewing Preserve, Henderson, NV - 36W04 / 114N98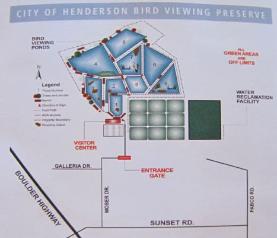 Quite by accident, we came across the Henderson
Bird Viewing Preserve. Located within the town's
water treatment facility, the Preserve is home to
thousands of migratory waterfowl as well as
numerous resident desert birds. There are nine
ponds available for birding and we were amazed
at not only the number and types of birds, but also
other fauna we came across.


With temperatures reaching 110F+ during the
days, we visited at around 0600 one hot, sultry
morning. We identified and photographed so
many new birds, we opted to add a new page to
the website on
Birds of
the Southwest
. Visit that
page for bird photos, but check out this page for
non-bird photos we managed while visiting the
preserve.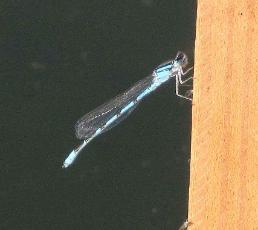 Vivid dancer damselfly - This iridescent
blue beauty is the state insect of Nevada.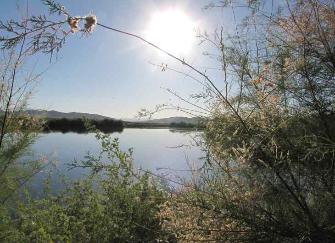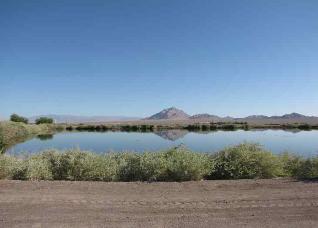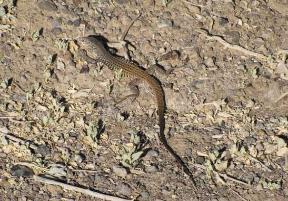 The early morning sun reflecting on the ponds was
beautiful.

Whiptail lizards were abundant.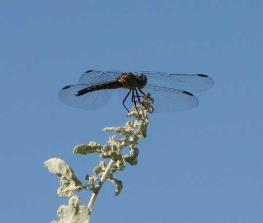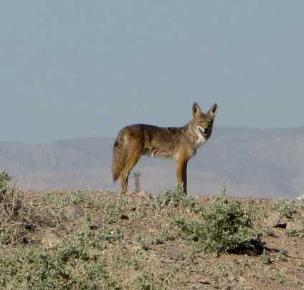 Aquatic insects like the skimmer above,
provide lots of food for the resident birds.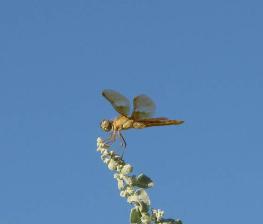 Dragonflies in varying colors and sizes
flitted about and around the water.

The very, very best animal we've seen,
however, was this coyote running along the
ridge. We saw him again later traveling with a
friend.

The ponds were teeming with life, but from a
distance the tranquil view was just as fetching.

Of course, there's more to come. As we travel,
visit and explore...we'll take you along. Promise!
Come with us to
Utah!

We go back to the Wetlands Park
fairly regularly. It's close to home
and we go really early when it's cool
and the birds and animals are at their
most active. We'll add to the

Southwest Birds
page and
intersperse interesting photos as we
go, because there's more to the
Wetlands than just birds.

We see lots and lots of desert
cottontails and there's a bullfrog
whose bass voice reverberates
through the marsh around the pond.
Desert flowers add color and there's
evidence of beavers though we
haven't seen them. So far, each time
we've gone, we've added a new
species sighting.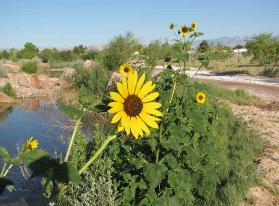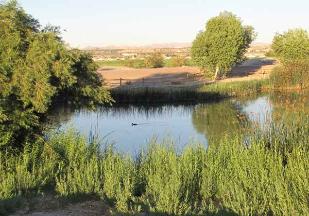 The sunflowers are in bloom and they looked
just beautiful in the morning sun, adding color
to side of the trail.

This pond is a great place for the coots and
moorhens especially. The high, thick grasses
growing around it are filled with sound, but we
rarely see the inhabitants.