s/y Nine of Cups

Roadside Americana - Mid-Atlantic

Pennsylvania, Maryland, Virginia

August 2012

This big paint can was just sitting along
Pennsylvania's Rte 81. Just about enough
paint for Cups' bottom!

The Callie Pretzel Company in
Cresco, PA was closed for tours
when we went by, but we said
hello to their Pretzel man.

Can you make out Nessie peeking out of this
little pond on a Pennsylvania backroad?

This coal miner statue is an
apt tribute to the coal
miners in Minersville, PA.

Jim Thorpe was once considered the
Greatest Athlete in World. He has a
whole town named after him in PA.

Giant firecracker along Route
81 in Maryland.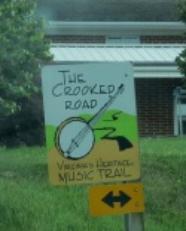 Lots of scenic byways
lead to fun places in
Virginia.

Lots of interesting things in Natural
Bridge, VA and this dino on a pick-up
was not the only thing that caught our
attention, but it certainly made us laugh.

A full-size replica of Stonehenge crafted
in styrofoam? Absolutely!!! Take a look
on
American Odyssey III
.


The Old Fiddler's Convention in Galax, VA is an
annual event and we had the chance to experience
some country music at the source.

Evidently, Route 11 Potato Chips
are a local treat. We called for a
free tour and sample, but they
weren't "frying" that day. ;-(